---
Dec 28
It's 4am and I can't sleep, so I figured I'd do an update.

Another Christmas has come and gone. This year was a big to do with Jim & Karen kindly organizing a trip to Jasper Park Lodge for all the family. Unlike the rest of the out-of-towners, Chris & I flew up to Edmonton so we didn't have to deal with traffic and any possible weather woes. Once everyone was there, we all climbed aboard a chartered bus for the trip to Jasper.

The last time I was there was for my Grade 9 ski trip, almost 30 years ago. Sigh. I'm so old. From what I remembered Jasper was like Banff but not as touristy and a bit more rugged and remote. We didn't stay in the town itself, but at the Fairmont resort instead. It was pretty nice. There is a main lodge and then various cabins and cabin complexes scattered around the grounds. At the lodge they have a great big common area with a massive fireplace and lounge with a number of restaurants. There is also a heated outdoor pool and spa and a number of shops and galleries. The staff were also exceptionally friendly and helpful. We were also graced with various wildlife during our stay including elk and deer, often hanging out just outside the cabin. About the only downside was the weather which was quite chilly, at times below -20. Some of the more outdoorsy types in the group loved it, but Chris & I would have been happier had it been a bit warmer.

Christmas itself was good, although with all the kids opening presents turned into an all day event. We also did the usual gift exchange which is always fun as people go back and forth stealing the most desired gifts from one another. I ended up with a small batch white Whiskey from an Ontario distillery so I was quite happy and Chris got a really nice blanket.

Unfortunately illness put a damper on this year's festivities with Michael unable to attend after ending up in the hospital with an infection and Hailey and most of the kids being sick. I also found out my friend Jay was in the hospital with some weird bug. Luckily I've managed (so far) to avoid the Petri dish of childhood sickness and stay healthy, but Chris wasn't as lucky and now has a cold. Despite all that we still had a great time. A big thanks to Jim & Karen for hosting this year's get together.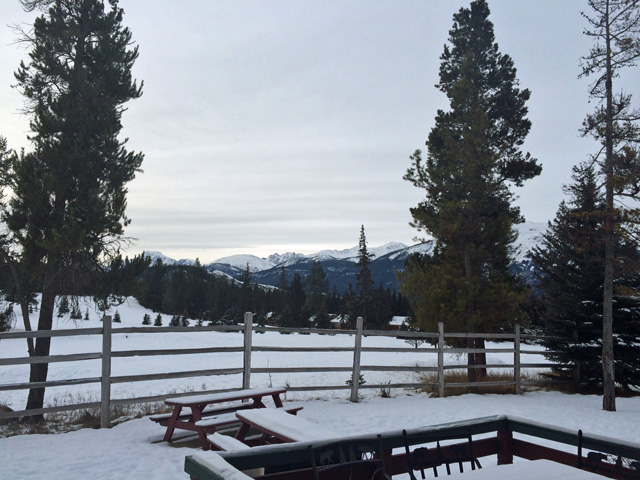 Cold But Beautiful
Work on the basement continues. The cabinet and shelves didn't get installed as expected as I wasn't happy with the work that had been done to date and the installer paused to address my concerns. We did however get a large shag rug and most of the window treatments done. The couch is in country (sort of) but hasn't been offloaded at the Vancouver port yet. Hoping everything will be done within the next couple weeks.
And thus the year comes to a close. We plan on going out for a nice dinner with friends on New Years eve and then having some bevvies with the neighbors. Overall it's been an ok year. We got to go to Europe which we love, although considering the cost/enjoyment ratio we've had better vacations. Financially this was my high watermark even though I feel like I really squandered such an opportunity. Health wise things started out on a shitty note for me but I'm coping. Chris also had her ups and downs but all things considered is doing well.
Looking forward to next year the economy looms like a black cloud over everything. To their credit, the higher ups at work are doing everything they can to avoid laying off people. How long they'll be able to avoid that is anyone's guess however. Not helping matters is the Tweedledee and Tweedledum of our provincial and federal governments. Never underestimate the propensity of simpleton voters to purposefully shoot themselves in the foot and for certain regions to engage in Schadenfreude.
It's now 5am and I need to decide if I should go back to bed or not. Decisions, decisions.
Anyway, here's hoping everyone has a safe and fun New Years and that 2016 brings nothing but happiness.
Dec 2
December.

I hate December. I hate the lack of sunlight. I hate that I'm reminded of my Dad's death. I hate Christmas. What used to be a most joyous time of year is forever ruined with the pain of adulthood. I thought I was doing good a few weeks ago, but it was an illusion. This year is not to be different than any before it. It's a struggle to just not get shitfaced every night.

Exercise helps though. And I finally have the elliptical back in it's place and with the TV installed in what is the gym area of the basement I am once again working up a sweat on a regular basis. Of course I could have simply continued going for my regular walks - like most normal people and just bundle up when going outside. But no, any hint of overcast and dismal weather is enough to keep me inside. It's pretty sad I actually just got emailed my November Fitness Report from MapMyWalk which is the app I use on my iPhone to keep track of how far I've gone when on my walks. Apparently I worked out for a grand total of 1.5hrs last month. Oh well, it's only 19 more days until the Winter Solstice and the days start getting longer again. The return of the sun shall boost my spirits and my outdoor activities.

Chris celebrated her birthday a few weeks ago and we all went out for a yummy dinner at the new watering hole which finally opened up. We've been there several times now and love that we have a different place we can go to when we want that pub experience. One of the gifts she got was a 21 days of Tea - a flavourful take on advent. It contains different samples of tea from David's Tea. Such is our lives now that we actually get excited that we get to try a new one each and every night. Thanks to Tracy for hooking us up!

Before that was of course Halloween and we did our annual? semi-annual? party. It was a lot of fun and I think we had the most people we've had in at least several years. Chris dressed up as a Greek Goddess and I was a Grumpy Clown. We partied into the wee hours of the morning so I guess we can still occasionally party hard. Thanks to everyone who came and made it such an enjoyable night.

The basement is essentially done. The stereo cabinet and display shelves are getting installed next Thursday and the couch should be here in a couple weeks. I know I said in my last post I'd throw up some pictures but I'm going to wait until it's all done. My man cave is so close to being a reality after all these years!
Oct 12
Just got back from Vegas...

Chris, Kim, her friend Lisa, and I all went to Vegas with Hailey and a bunch of her friends to help celebrate Hailey's 21st birthday. It was a fun few days in Sin City. Although being the only guy in a group of eight made me feel a bit out of my element and some of the conversations with Hailey and her friends made me a bit uncomfortable. I know they're technically adults, but I'll always see Hailey as my young niece - and I mean that in nothing but the best way.

We stayed at the Mirage again, in the same type of suite we had the last time we were there. We like the room, it's comfortable and familiar. However once again there was an issue with the room (it wasn't totally cleaned), and some glitches on check out made us decide it's likely the last time we stay there. Chris & I did manage to check out some other hotels we hadn't been to before - the Cosmopolitan, Aria, Vdara, and Planet Hollywood. We also spent more time at the Venetian having only briefly been there before.

A few years ago, when they were being built, we were somewhat interested in the condos in Veer towers. There was always that 'hey wouldn't it be cool to have a place on the Strip' idea floating around in our heads. This time we went and actually took a tour of the place, went through a model suite, saw the facilities etc. I'm glad I did as I'd have to have my head checked for us to pay what they were asking - for what you get. Plus the condo fees were $1200 a month and that didn't even include your electricity or internet. So even if I just happened to have $900k for a cash deal, I'd still be paying the equivalent of a monthly mortgage for a place we'd only visit a couple times a year - and renting out realistically isn't an option as they specify you can only do long term rentals of six months or greater. So it looks like we won't be getting a vacation property in Vegas.

We had a fun time, but other than tying one on the first night on Freemont Street (as we usually do) I was well behaved. In fact, this is probably the least that I've drank on any of our visits there. Gambling wise we did our usual - mostly slots and a couple games of Blackjack. I'm sure we lost money overall but had fun doing so. The only show we saw was the Zombie Burlesque show. It combined our two favourite things - zombies and naked girls. It was moderately entertaining, not exactly a replacement for a Cirque show, but not exactly as painful as watching some cheesy magician at one of the budget hotels either. As for the flights, we flew in and out in the morning which was a first for us as we usually arrive late and get home late. Having done both now I much prefer the earlier options. And thus ends our latest Vegas adventure. Happy 21st birthday Hailey!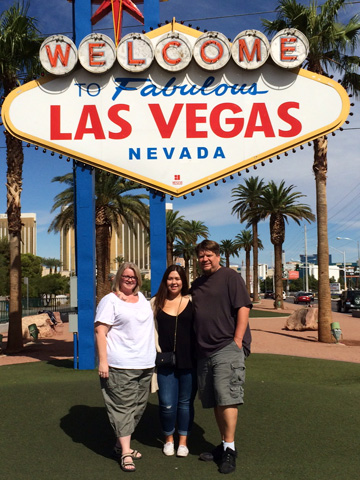 Vegas Baby!
Progress on the basement continues. They've finished painting and installed most of the lights. We just need to finalize the type of recessed lights we're going to use for all the poster niches. Then it's just a matter of cleanup, having the AV guys come in and install the TV and speakers, and do all the programming for our Control 4 system. It's been a stressful few months but now that it's coming together and near the end I'm happy we decided to go ahead and get it all done. I can't wait until I can kick back and enjoy watching movies and listening to music in my retreat from reality.
I'll throw up some pictures the next time I post!
Sep 3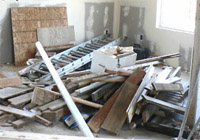 Busy, busy, busy...

The biggest event in our lives currently is the basement reno. The framing, plumbing, electrical, and drywalling is all done. It's been an interesting process, but we'll be signing off on the first stage of work soon which means a huge chunk of money will be coming out of the bank. Suddenly this reno has become very real.

Overall things have....well....progressed. I'm a bit frustrated with the company as I've had to be home several times, essentially acting as the general contractor. Almost every day I'd come home and something would be wrong and I'd have to inform them which they've always said don't worry, they'd fix it. Fine, but after awhile it gets quite tiresome. I literally cannot even begin to remotely fathom people who sign up for a reno and then go out of town until it's done. It blows my mind as I've caught so many things that were wrong by my being here. So while that's been aggravating, at the same time they've been very accommodating to my ad-hoc requests. I know it'll be all worth it when it's done.

Other than that, everything has been pretty much your typical lazy days of summer. Sadly, the post vacation bliss didn't last long as we came back to the economy going to hell and once again having to worry about my job. But you can only worry so much otherwise it'll just eat you up inside.

In that spirit we're off to X-Fest this weekend. Our annual two day music festival with friends where we imbibe copious amounts of spirits and rock on until the wee hours of the morning. Then get up and do it all over again. We're really looking forward to this last blast of the season. Soon it'll be snowing and miserable out again and I'll be forced to hibernate for six months. But the difference this year is I'll be able to retreat to my newly finished basement.

Bring it on!
Jul 11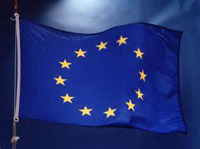 We're back!

I remember now why we only go to Europe every few years (beyond the financial cost). It's exhausting! We'll need a vacation for our vacation. We left London yesterday and through the miracle of time travel, got home only a couple hours later. We tried to stay up as late as possible last night but 8 o'clock was as far as we got.

While I find jet lag much worse going there than coming back, I'm sure it'll take a few days for us to get back to normal. It was a great break from reality and I'm glad we got to go with Kim & Hailey on their first trip to Europe. It wouldn't have been the same without them. And as always, thanks to all who helped look after our brood of pets. We won't have much time to rest as it's back to work and I'll be busy emptying the basement so that the renovations can begin in a few weeks. The day we left we found out our designer had quit/got fired so there's still a bunch of stuff that needs to be straightened out. It should be an interesting experience.

Details of our whirlwind vacation can be found here.
May 8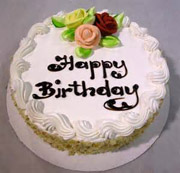 Another year older, not sure I'm any wiser though. Time definitely seems to be speeding up as I age. When I was younger I used to have all the time in the world. Now, before I know it I'm having to head to bed. Such is life.
We went up and spent the weekend in Edmonton to celebrate by seeing friends and family. Unfortunately my Mom was sick so that put a bit of a damper on things. Chris & I put our expert medical knowledge to good use though and made her some chicken soup to get her back on her feet. While she was recovering we had a yummy dinner with Jay, Betty, and Nathaniel and with Jim & Karen. We also managed to squeeze in lunch with Deb that weekend who we hadn't seen in a long time. So it was a short but nice visit.
Other than that it's been the regular routine. We're just counting down the days until we leave for Europe. It'll be a much needed break from the various stresses. I'm worried about my job as a bunch of people I know have been laid off. This is the worst that I've seen it, even worse than the apocalyptic worldwide economic crash in 2008. As horrible as it sounds, there's a part of me hoping another manufactured crisis in the Middle East comes along and drives up the price of oil. To a lesser but more immediate degree I'm also stressed about construction going on down the hill from us. As usually happens, you get suckered into buying a big house with an awesome view and they neglect to tell you that in a couple years they'll be building a brand new community literally a stones through away. God forbid there be one single square meter of land in this city that's not developed somehow.
At least I can focus on getting my media room done where I can hibernate away from the world. That said, things are continuing to drag. We still don't have pricing and I'm starting to get frustrated with the delays. We've picked out everything we wanted, given links to the products and suppliers, so we're not sure what the holdup is. It's obvious now that nothing is going to happen until at least the summer. But on the plus side that means that I'm delaying having my bank account drained.
Mar 21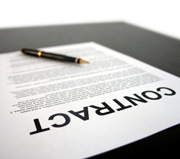 I can't believe it's spring.
As with my last post, there's not a lot that's been happening. It's been pretty much the same for awhile. Get up, go to work, come home, eat, go to bed. Repeat. Chris and I are both coming off bad cold/infections. I came down with it when I was still up in Edmonton and it took two weeks for me to finally get over it. Not sure what it was, but I had some kind of chest infection. There was no point going to the doctor as they'd just tell me to come back in a week if I wasn't better. Then despite our best efforts at prevention Chris also got sick not long after. But she's almost back to normal now.
We figure we might as well get the usual being sick at this time of year over with now and before our vacation comes. Amazing that it's only a few months away. We just finished booking the last of our planes, trains, and ships travel odyssey a few days ago. We have some ideas as to what we want to do in each location, but we'll have to narrow the choices down to fit our timeline and spending budget. From there it's just a waiting game until we board our flights. As mentioned, I'm in a bit of a funk lately and I think that usually happens when it's been awhile since I've travelled. But a few weeks in Europe should get me back to my perky self.
If you're wondering what the contract picture is all about, we recently signed with a Reno company to get the basement done. So it's official, we're going ahead with it despite all the economic warning signs. In the end we went with the same company that did our garage. We were considering going with someone else and we used them to get the drawings done up last year. But in the end we just found their process to be frustrating. Essentially they were giving us a fixed cost amount but weren't willing to break those costs down. So apparently it didn't matter if we went with Delta faucets or Dornbracht. If we went with Danby wine fridges or Sub-Zero etc. We get that you're going to have a ridiculous mark up but we can't determine what areas we can scale back if you can't give us a break down of the costs. So we're meeting with the new designer next week to go over what we want. As we already have the drawings and already know what we want that part of the process should be easy. Then it's just a matter of getting everything out of the basement and waiting for the trades to start.
Because of that we'll be purging a bunch of stuff over the next few weeks. We'll either be giving stuff away or trying to sell it on Kijiji or eBay. If anyone is looking for some previously enjoyed treasured items let us know and we can hook you up.
Feb 16
Figure I'd give a quick update...
Not much exciting has been happening lately, but that's a good thing. This past long weekend was really nice. Chris and I celebrated Valentines day with some bubbly and just hunkered down and watched our shows. Yesterday the Grover girls came by and we did some more planning for our Europe trip. We got one train ride and one flight booked so it was a productive day. I can't believe how fast this year is already going by. Before we know it we'll be catching our flight and enjoying our days in the Mediterranean.
A few weeks ago I went up to Edmonton and spent the week there for work. Jim and Karen were kind enough to let me house sit for them while they were away which was much nicer than having to spend all that time in a hotel. Chris came up the one night and we hung out before I left to come home and she stayed a few more days to catch up with some friends she hadn't seen in a long time. I hate driving at this time of year because you never know what the roads will be like. I managed to luck out and the days I was on the road were fairly nice, but unfortunately Chris had to drive up there during a blizzard and so was all stressed out when she arrived. I'll be going up there again next week so fingers crossed for good weather.
In my last post I mentioned we were in the process of planning to get the back yard done. Well that's on hold until next year. We talked things over and have decided to get the basement done instead. I was able to justify it as over the course of a year we'd get more use out of it than we would the back yard. Plus, with all the crap going on lately with the price of oil, should the unthinkable happen and I get laid off and we were forced to sell, a finished basement would bring more of a return than the yard would. Plus I've been wanting a finished basement since we lived in our old house.
Basement Rendering
So we met with the same renovation company we dealt with previously when we explained our vision and they came up with all the required drawings and 3D renderings. We're just now waiting for them to come up with a new price list - we've scaled things back as a lot of the previous cost was due to all the custom cabinetry we were going to have installed. But with me finishing all the work to have my gaming PC in the office and all the time I spent over the winter installing storage in the media room we no longer need them. So once we get the estimate and I muster up the courage to sign we'll go ahead and hopefully have everything done around the Summer.
Obviously this is a big decision with the economy being the way it is, and I'd be lying if I said I haven't been going back and forth almost daily with what to do. But I'm being positive things will work out and the reward will be worth the risk.
Jan 17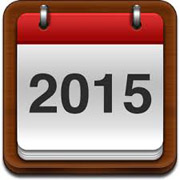 Well it's a new year.

Once again we didn't do anything big and just went over to the neighbors place and hung with the gang. As usual we hung out in their garage where they had music and TV playing on a projector. The only downside is most of them are smokers but they kept the garage door open which helped. Chris and I are thinking this might become a regular thing, with us hosting the Halloween party and them hosting New Years.

Christmas was also good. We went up to Edmonton to visit my Mom. We didn't think Chris would be able to go up at all as our one cat had a bunch of teeth pulled the previous week but had developed an infection and had to have medicine three times a day. But she flew up for Christmas day and flew back that night. We had a nice dinner and played our usual game that we play there, Tile Rummy. I got a couple cool gifts. With the garage having been finished I was regretting that we never put speakers in the ceiling. But the Grover girls all chipped in and got me a nifty Sonus player. It integrates into our existing system as a separate source which means I can listen to music on it independently of what might be playing in the house. Very happy with it. And with the money my Mom gave me I got a really cool set of headphones that I'll use for gaming. All in all a great Christmas.

But sadly not all is rainbows and unicorns. On my last post I was back in rhythm and looking forward to being healthy again. Unfortunately, it didn't last. Only six days later I dropped back out. I rushed home and downed a massive dose of my pills hoping that would kick me back, but to no avail. One of those rare occasions where I was extremely positive and hopeful and for my na´vetÚ I got a swift proverbial kick in the nuts. So at this point I'm done with modern medicine. I've tried both chemical and electrical conversions and neither have worked. And throughout all of this they can't tell me 'why' this is happening nor have they really tried. Other than testing me for sleep apnea they've been content to keep pumping me full of pharmaceuticals. No more. I've done a bunch of research and over and over again I keep coming back to a lack of Magnesium as being the primary cause of Atrial Fibrillation. And I'm pissed off because way back when all this started I brought that up but my doctor dismissed it as being essentially junk science.

So I'm now taking 500mg a day of chelated Magnesium. Hopefully it works. If not, oh well. As long as I 'feel' ok I'm not going to worry about this anymore. On to other things...

Awhile ago we hired a designer to do up some drawings for us getting our backyard done. He turned out to be a bit of a flake, but we found someone new who so far we're extremely happy with. Below is the latest drawing. There's a few small changes we've asked to be made, but overall it's pretty representative of what we will hopefully have in place before the summer.
Backyard Paradise?
Of course will everything going on with the economy you automatically wonder if we should go ahead with this or not. But you can't live your life based on 'what if's'. Unless something dramatically changes in the next few months we should have a new backyard this year. We also plan on going to Europe as our big vacation. All that said, we also do plan on paying down the mortgage.
So the year starts full of uncertainty but also with the promise of good things to come.