---
Dec 28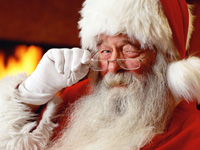 Christmas has come and gone and we managed to survive ok.
This was our first time hosting in our new house and we entertained Christmas Eve, Christmas Day, and Boxing Day. Needless to say both Chris and I are pretty tired right now. But it was a great time, and we're glad we got to share it with so many of our friends and family.
For the first time in recent memory, Chris' family was scattered to the four winds. So we figured it would be a good idea to have it here. Normally I hate travelling at this time of year as it's always a shit show and we'd get to avoid having to worry about that. Plus money wise, we'd get to save a bit by not having to pay for flights and accommodation. But as we found out, it's also a lot of work. It'll be nice having someone else taking care of everything next year.
Despite the weather being crappy my Mom and her friend Angie managed to make the trip and it was great having them here with us.
Presents wise Santa was pretty good to me. The big ticket item I got was a nice new leather jacket. After unwrapping it I picked it up and inhaled it - love that new leather smell! Chris knew I was wanting a new one so I'm very pleased. Truthfully I think she was also tired of me wearing my old, ratty, one. I also got some calendars, books, and gift cards. So I was a happy camper.
Here's some pix of the festivities:
Soon 2016 will be at an end and looking back it can't come soon enough. Although on a personal level I emerged relatively unscathed, considering the almost daily pronouncements of celebrity deaths, the never ending acts of terrorism at home and abroad, and a brutal economic environment overflowing with layoffs - 2017 can't come soon enough. It has to be better. It just has to be.
Happy New Year to everyone, have fun, and stay safe!
Dec 4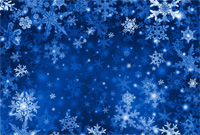 Looking outside reveals a steady falling of snow. Looks like Winter is finally here. A good time to hunker down and update the News.
I'm glad we didn't go up to Edmonton this weekend. We were going to pop up for a few days to spend some time with my Mom and to also go to my Father In-Law's retirement party. But in the end we decided to cancel as Chris is fighting a nasty cold and I'm on the verge of coming down with it. Although the drive up would have been fine we'd have been stuck in this snowy mess on the way back.
We did however go to Banff for a couple days earlier this week. Why Banff? Partly in keeping with our goal this year to stay closer to home and do more 'staycations'. Other than the trip to Palm Springs at the beginning of the year and to Victoria during the summer we've just been doing short one or two day getaways either downtown, or in this case 90 minutes away. But the big reason was a band we both really like - July Talk - was playing at one of the local venues. We saw them a couple years ago at X-Fest and they were the highlight of the festival. For those who haven't heard them they're sort of an alternative, rockabilly, pop, blend.
The thought of seeing them in a more intimate location was pretty cool so we bought tickets as soon as they came out.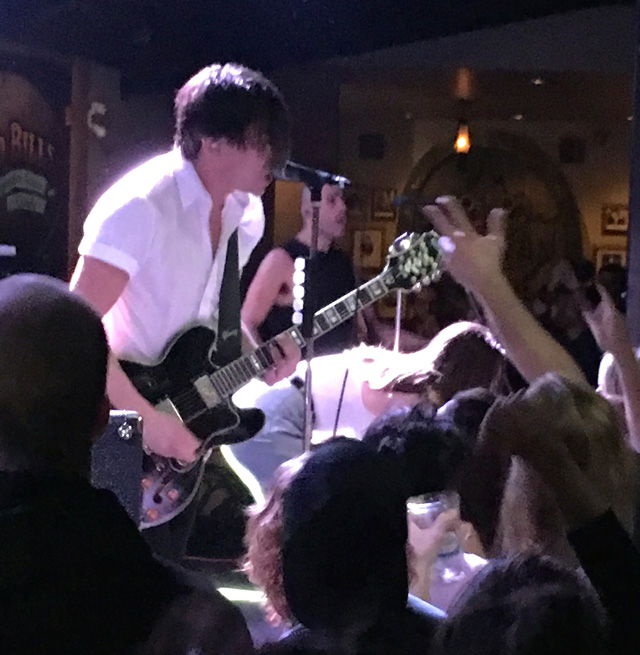 July Talk
We hadn't been to Wild Bills before but it was pretty good. They removed all the tables in front of the stage to make more room, but Chris & I were basically the first ones in when the doors opened and managed to snag a table in the back which conveniently was also by the bar. As it was on a raised up section we were also to see over everyone's heads without having to stand. Yes, we've officially hit that age where our comfort is more important than being right next to the stage. Still, as you can see from the picture, we were able to wander up close when we wanted to. It was a great concert and we had a lot of fun. A bit to much fun as afterwards we ended up at the nearby Mexican place and broke out the Tequila. Needless to say our next day in Banff was much more subdued.
I've been keeping busy puttering around in my basement cubby hole and putting up some additional shelving and cleaning things up and organizing. Chris has been busy putting stuff for sale on auction sites as we're in the midst of purging lots of crap, er, valuable items. We also just put up the Christmas tree and are looking forward to having Christmas at our place this year for the first time in what seems like forever. After that we're going to head to Vegas and spend New Years there which is something we've always wanted to do.
That's it for now. Stay warm!
Nov 5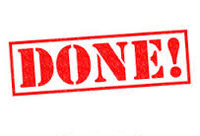 October was a busy month.
Our new found love of staycations continued. We booked a room at our favourite downtown hotel and spent one Saturday having fun. First up was watching the annual zombie walk where we got to watch a bunch of people dressed up as zombies shambling down Stephen Ave. Sadly, this year wasn't as good as last time. It started late, presumably because they were hoping more people would show up, and it was over pretty quickly. I had a hunch that maybe the whole zombie thing has run it's course and based on the walk I think I'm right. Still, it's always fun to watch - especially seeing the tourists wondering what the hell is going on. From there we headed over to the BMO centre to partake in the Wine & Food Festival.
Chris had been there before, but this was my first time. Essentially it's a huge venue for vendors to sell samples of booze and food. You buy tickets and each sample costs a certain amount of tickets. I got a kick out of how everyone was very sophisticated and proper at the beginning but after an hour so the descent into drunken debauchery had taken hold. I really wanted to stay there to see what the place would be like at closing time, but I think that would have been pretty scary. We had a lot of fun and it was a nice little get away.
Our basement is finished! The contractors beavered away for most of the month and finally got everything done. We're very happy with the end result. In addition to the bar, it's so nice having a bathroom down there. We no longer have to run upstairs in the middle of a show or movie. And it might seem lame to some, but I really, really, love my urinal :)
The finishing touch was getting the bar stools. We looked at a number of different styles but didn't really find anything that was appealing. Then one weekend we popped into Home Outfitters and found the perfect set. So, after at least two years of construction, my long, seemingly never ending desire to have a finished basement is now fulfilled.
Of course October means Halloween and we put on our annual Halloween Party. I went as Aquaman who couldn't swim (I had water wings) and Chris did a couple's costume with Kim going as Tweedle Dee and Tweedle Dum. As in past years Chris made up trophies and everyone voted for scariest, funniest, lamest costumes etc. For some reason I won the lamest award. Not sure why...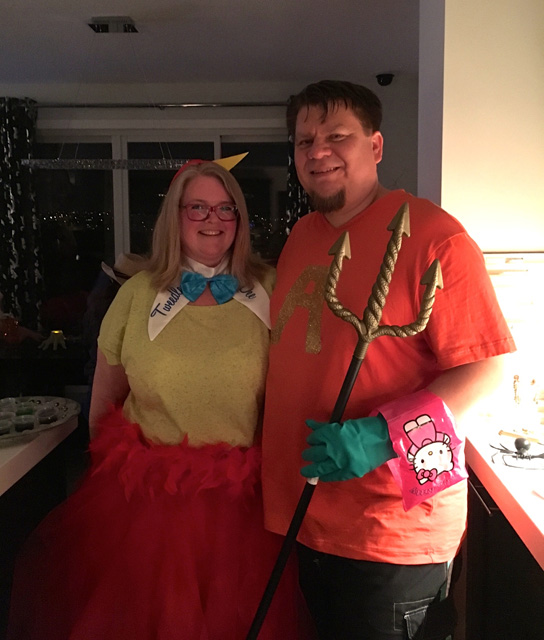 Cute Halloween Couple
Turnout was great although it seems each year the number of old friends keeps dwindling, however it more than gets made up by new friends and acquaintances that we meet. Still, we put a lot of work into decorating and each year I question if it's worth it. But I know that next year Chris will simply give me that 'pretty please' look and I know we'll do it all over again. A big thanks to everyone who celebrated with us!
Sep 21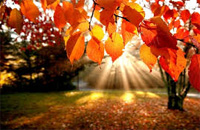 Looks like Summer has sadly given away to Fall.
Actually I like this time of year the best. Perfect temperatures, not too hot, not too cold, but a crispness in the air. The beautiful colour of the leaves. And no more damn bugs!
I've been off the past couple weeks. As previously mentioned, we were supposed to be in Hawaii right now, but due to the new 'economic reality' decided to save our money instead. Still, a couple weeks off is a couple weeks off. And frankly, I'm perfectly content not doing a whole lot. For me, a perfect day is sleeping in (which for me is like 7:30), grabbing a coffee, surfing the web for a bit, lunch, a nice mid-afternoon nap, a yummy dinner, and watching shows until it's bedtime. It doesn't take much to keep me happy. That said, we did manage to do some fun things. A couple weekends ago Chris and I went to the Grey Eagle Resort & Casino. We had bought tickets to see stand-up comic Iliza Shlesinger and decided to make a night of it and get a room there as well. Never having been there before I wasn't sure what to expect, but we had a great time. The casino itself it pretty decent, the rooms were really nice, the food was good, and all the staff was super friendly. The show was really good as well. I've always liked her. She's like Amy Schumer except that unlike Schumer, she's actually funny. She has a couple of specials on Netflix right now, so if you get a chance check her out.
Last week the contractors finally showed up to continue work on the basement bar and bathroom. We had the cabinets installed months ago and when we originally signed the contract this was all supposed to have been done long ago. Truth be told, we're actually ok with it taking this long - assuming it's done before Halloween - as it just drags out the length of time before we have to pay for it.
So the quartz counters are installed in the bar and the backsplash is done. The wall tile in the bathroom is also done. The head guy just informed me they'd be turning off the water for a bit, so I'm hoping the urinal and wallmount toilet get installed today. Then it's just a matter of installing the bar fridges, faucets, lights, and installing the bathroom door. I'm hoping it all gets finished this week, but wouldn't be surprised if it drags on for a few more weeks. Obviously we want it done for Halloween so we can show it off to our guests, but the main reason is by then the soul crushing, darkness of winter will have hit and I'll want my little slice of hibernation heaven to be complete.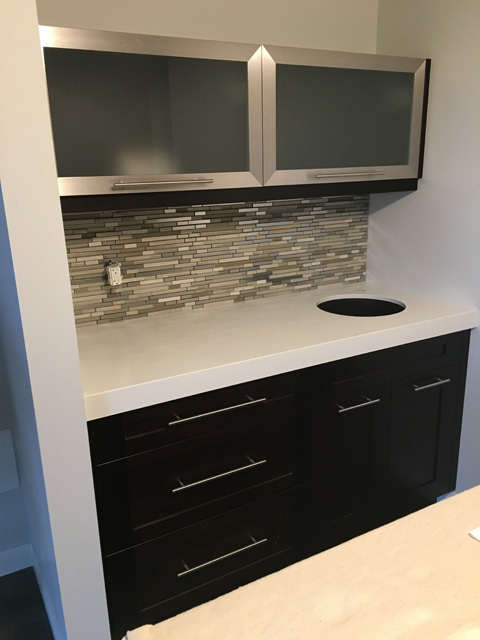 Wetbar Progress
On the vacation front, we had previously booked a Panama cruise in April. I was adamant that this was the cruise we went on because it had one unique stop in its itinerary. Every other Panama cruise would stop in Columbia, but this one stopped in Curacao instead. We've been to the A and B's of the ABC (Aruba, Bonaire, Curacao) islands, but never to the C. And it was a quickish flight direct to San Francisco where we'd depart from.
But then we got word that friends of ours had booked a Transatlantic cruise that took place around the same time. So we looked at the itinerary, noted the places we hadn't been to before, poured over the cabin details, special perks, flight details and weighed all the pros and cons. In the end we decided to cancel the Panama trip and go on this one instead. Money was definitely a factor, but we also got a nicer cabin, and there is a couple ports where I've always wanted to go to - and we get to travel with friends which is always a bonus. So next year's vacation plans are set in stone now. A Transatlantic cruise in the Spring and Vegas in the Fall.
I can't wait!
Aug 21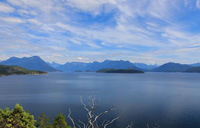 The past couple of weeks have been a mix of great and horrible.
First the great. We went on a one week getaway to the BC coast. Chris and I spent a few days in Victoria and then drove up to Comox and took the ferry over to stay at her Dad's place where we met up with a bunch of friends and family and hung out for a few days there before coming home. I've only been to that slice of paradise during Christmas before, this was my first time being there during the summer.
We've talked several times previously about spending some time in Victoria while over there but for whatever reason weren't able to do it until now. I probably was there as a kid, but I don't remember it. We got a fancy room at a hotel right on the harbour which had terrific views. The first day we just explored a bit and got our bearings. The day after we went on a whale watching tour where we spent about 4 hours out on the ocean. We saw some Humpback whales and a bunch of Orcas. It was a lot of fun even if the weather wasn't the greatest. I was just happy to be on the ocean again after what seemed like an eternity. On our last day we went to Butchart Gardens which everyone whose been there has raved about. I must admit it was pretty cool, even for someone who doesn't care about flowers that much. I thought it was pretty expensive though so we made sure to see every square inch of the place. For me, I thought the Sunken Garden was probably the highlight.
Living the good life in Victoria
From there we went to George and Lori's where we had a great time hanging with them. Being that it was summer we spent one day down on the beach enjoying the sun and frolicking in the water. I even tried paddleboarding which was something I didn't think I'd ever do. Not being a strong swimmer and someone who tends to sink like a stone I decided not to tempt fate and stand completely up, instead I paddled around while on my knees. Tracy, Chuck and family, and Kim who happened to be staying at a nearby campground also popped by that day. Along with Chris' siblings and significant others, plus Hailey and her friend Erin, who were all also staying at the house the place was overrun with us 'kids' having fun.
The next day we were treated to a trip out on the ocean on a chartered boat and got to see some great scenery including a bunch of seals. We anchored in the middle of some bay and did some swimming and were then feasted on a great BBQ'd meal before heading back to the little town of Lund where we left from. It was another great day to end what was a great trip. Thanks to George and Lori for being terrific hosts as always. Unfortunately, other than what was posted on Facebook, we didn't end up with many pictures. A certain wife forgot she had her iPhone on her as she waded into the ocean. Sadly Apple wasn't able to recover many of them. Apparently electronics and water don't mix.
As for the horrible, I screwed up my back at some point this past Monday. I'm not even entirely sure what I did. It just started hurting later that night. By Tuesday morning I was in agony. It took me 15 minutes to put on one sock and I thought I was going to die in the process. I went into work through sure force of will but had to head back home in the afternoon. The pain was non-stop and so bad that several times I felt like I was going to throw up. I was popping Robacaxet like candy but they weren't doing anything. Finally Chris suggested I go see a chiropractor and I agreed. Bear in mind that I've always considered them something akin to witch doctors - so that just shows how messed up I was that I agreed to go. At that point I didn't know what else to do.
So I went in and the guy did his thing. There wasn't one of those moments where you hear a crack or something and instantly everything felt better, but by the time he was done and I left the office the difference was huge. I sat in the car and almost started crying as the relief was so welcome. Fast forward to today which is almost a week later and I'm still messed up - but it's much better now. I have a few more appointments scheduled and intend on going to them.
But during the worst of it I had that moment where I thought 'What if I did something permanent? What if I need surgery? What if the surgery doesn't fix it? What if I'm going to be like this from now on?'. It was pretty scary. If this is what getting old is like, kill me now.
Jun 26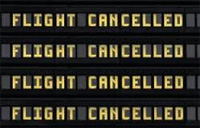 Just a quick update. With last month being crazy busy it's now the lazy (rainy) days of summer and things have slowed down. Currently watching the Euro Cup (go Iceland!) - it's weird, I've actually got into soccer more and more over the past few years - and figured I'd do something productive and update the news while I wait for the first goal.

Chris & I went up to Edmonton a couple weekends ago for a short visit and to take care of some responsible adult stuff with my Mom that I don't like thinking about. We were also able to see Deb and family before heading back. It seems like forever since we saw them. And we also squeezed in a lovely dinner with Jim & Karen. This past week I spent a few days in sunny Saskatoon for work. Had fun the one night at the local pub and won $80 on the slots but as always I hate being away from home and missed Chris not being there to share in the fun.

Progress on the basement continues. All the cabinetry is in and installed. Legacy Kitchen's supervisor/quality guy came by a couple days ago to look everything over and gave it the thumbs up. Most of the materials have been delivered now as well - my urinal is currently sitting in the garage. I joked that maybe I'd just mount it on the wall and punch a hole through to the outside and start using it now. The templating for the quartz countertops has been done and submitted and now we just have to wait for it to get made, delivered, and installed. Our guess is we're maybe looking at September before everything is done and the basement finally complete.

Sadly we cancelled our Hawaii trip with only a couple months to go. We talked it over and decided we'd instead be fiscally smart and invest/pay down the mortgage instead. It really sucks because I was so looking forward to that trip. I've even started dreaming about being on a cruise lately. Sad but true. Making the decision a bit easier is the fact that we'll be headed to BC in August and spending some time in Victoria and the Sunshine Coast. I'm also perfectly content doing absolutely nothing during my time off in September.

That's about it for now, so…huh? what?

GOOOOOAAAAAAALLLLLLL!!!!!!!
May 20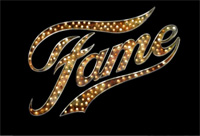 Lots of stuff happening lately.
First up was our brief touch with celebrity. A few weeks ago a friend forwarded me a post on Facebook from a police officer who was part of their media relations department. It was a story on how locals had their security cameras hacked and were unknowingly being watched on the internet. The story had two pictures of two different living rooms, one of which was ours.
I contacted the officer to let him know that in our case at least, no, we weren't hacked - we knowingly broadcast on the internet. A few days later he got back to me and said one of the local news stations was doing a story on it and wanted to know if we were interested in being interviewed. At first I wasn't going to, but then later said 'what the hell' and agreed to do it. Not long after they called and arranged to drop by to interview us. The reporter hooked each of us up to a microphone and asked us various questions - mostly along the lines of 'why do you do this?', 'aren't you concerned about your privacy', 'do you think it's good that people are being made aware of this issue' and so on.
Of course you worry you're going to come across as a babbling idiot and in reality out of minutes of footage they only used a few brief snippets of us. But it was an interesting experience. Of course the part where Chris said she just made sure to not walk around naked was one of the clips they used. When the footage aired later in the week we got a bit of a kick out of seeing us on TV and felt like we were real celebrities - if only briefly.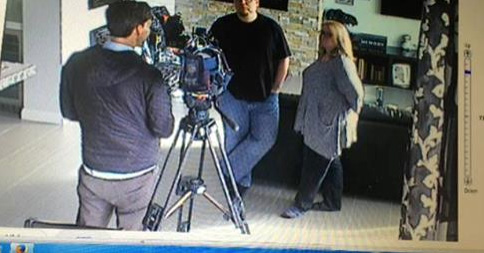 Five Minutes of Fame
The other big event was the disaster in Fort Mac. I lived there back in the 90's when another big fire impacted the city for several weeks so it didn't concern me much when I first started hearing the reports, but then later that day when I saw the images of people fleeing it stunned me how much worse it was this time. When I lived there the fire only cut off the city from the rest of the world it never actually reached the city itself. I was really upset with what I was seeing. Although a lot of crap happened when I was there and lots of bad memories remain, there were also some very good ones. And as anyone whose lived there will tell you, even after leaving, the bond with that place always remains. Sadly, the first house I ever bought is now most likely gone.
Words can't adequately explain the anger I felt at those who used this tragedy as an opportunity to mouth off about their pathetic environmental agenda and bask in what's become the national pastime of Schadenfreude. The way Albertans have stepped up to help those in need has never made me prouder to be an Albertan and the way a significant portion of the rest of the nation reacted has made me ashamed of being a Canadian.
Chris recently had surgery on her foot and is recovering rather nicely. She has a pretty nifty scar on her foot now and just got the stitches out yesterday. Hopefully once it's all healed up the problems that were bothering her previously will be gone. Her surgeon got quite the kick out of her painting her toes green on the foot that was to be operated on, and painting the toes on her other foot red to make sure they didn't work on the wrong one. We were worried she'd be hobbled quite a bit and have to use crutches, but thankfully she didn't need them.
Work on finishing the basement should begin hopefully in the next month or so. We've ordered all the cabinetry and signed the contract with the reno company to do the work. Now we're just waiting for them to schedule us in and for all the hardware to arrive. Hopefully by the end of summer the bar and bathroom will be in place.
That's it for now, enjoy the rest of what is a typical cold and wet May long weekend!
May 1
What a fun, event filled, birthday weekend.

While it wasn't the big 5-0, I felt this year had some significance over past ones and wanted to do something substantial to celebrate. In a happy coincidence the local Comic Expo was in town. I had never gone to the previous ones, usually because by the time I'd find out tickets would already be sold out. That plus the fact that I generally abhor throngs of people.

But this year a certain Billie Piper (Secret Diary of a Call Girl, Dr. Who, Penny Dreadful) was one of the guests and being the big sci-fi nerd that I am, I just had to get my picture taken with her. We ended up splurging and getting the 4 day passes which was good as it gave us a chance to gauge how busy the event was on the different days. A world of difference between Friday and Saturday for instance. Chris of course loved all the costumes and we were perfectly content sitting down for an hour and just people watching. Not being a big comic person I didn't really appreciate a lot of what was there, specifically all the different artists they had, and after awhile all the merchandise just kinda blended together. But I did find a booth selling odd and obscure DVDs and managed to get a few hidden gems (Star Wars Christmas special anyone?).

We spent the Friday afternoon there with Chuck and Tracy and the kids getting the lay of the land and figured out where everything was and went back on the Saturday as that's when my photo op was scheduled. We were competing with Stan Lee that day so the lineups were massive. It was well organized though and everyone was assigned a lane they had to stand in based on who there were there to see and at what time. We ended up standing in line for an hour but it was worth it. My concern was that it'd be a crappy picture and I wouldn't be smiling, so Chris was coaching me to think of something funny - but I didn't have to worry. As soon as I got around the curtain and saw her I immediately had this big shit eating grin on my face. Due to the volume of people they just get you in and out so I didn't have time to say anything other than hi, but it was great experience.
Billie Piper = Geek Heaven
On the Friday night we met Alpha & Nancy downtown to go see a Suicide Girls burlesque show. It was a lot of fun, a bit too much fun as I was feeling a little rough the next morning. After we left the Comic Expo, Chris dropped me off at a computer gaming place where I met Jamie, Blaine, and Chuck and we kicked it old school playing computer games for a couple hours. It was a humbling experience though as we all realized how much we sucked at playing them. I believe I caught myself saying 'I don't remember this game being this hard when I played it several years ago'.
From there we hit the pub and then a fine upstanding establishment. Sadly all the effects of the previous days caught up to me and by 11 I had hit a wall and was done. I felt bad as Chuck was good to close the place out. But it was just a reminder that I'm now officially OLD!!! Sigh. It was a great weekend but I think I'm going to need a couple days to recover. Thanks for everyone who helped me celebrate!
Apr 3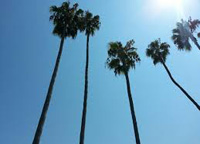 Ah, it's my last day of holidays and then back to the grind tomorrow.

It was a fun and much needed break. Having made it through the doldrums of winter I was getting to the point where I really needed to get away. For my sanity and for the sake of those around me it was necessary.

Normally we'd go on a fancy cruise somewhere, but this time we tried to be somewhat frugal and decided to go to Palm Springs where Chris' Mom and Stepdad have a vacation home. We were one of the last groups of 'children' to go visit and it was worth the wait. A definite slice of paradise.

We also took advantage of the proximity and rented a car for a couple days and went to visit San Diego which we've also never been to before. We got a hotel on the beach and just hung out being beach bums. It was fun wandering along the boardwalk, playing in the water (which was freezing), and watching beautiful sunsets. We also got to visit with our friends Gary and Jake whom we had previously met and had a blast with on our Japan cruise as they live downtown.

Palm Springs was nice. Besides Vegas it was my only other visit to an actual desert and I got a kick out of the fact that like the snowplows we have here, there they have plows there to clear off all the blowing sand drifts from the roads. In addition to hanging with the family, going to yummy restaurants, and frolicking in the pool we also went and visited Joshua Tree National Park which was nearby. Sadly the weather wasn't the greatest and was a bit chilly in comparison to what it was normally. But we made the most of it and went up to a wicked observation point which overlooked the Salton Sea and off in the distance was Mexico. But the temperature had dropped at least 20 degrees in the short time it took to drive up there and was freezing. From there we went and checked out some of the cool rock formations. Here's a pic of me clambering up one of them. The tree in front is one of said Joshua Trees - which in actuality aren't trees at all and are instead classified as plants.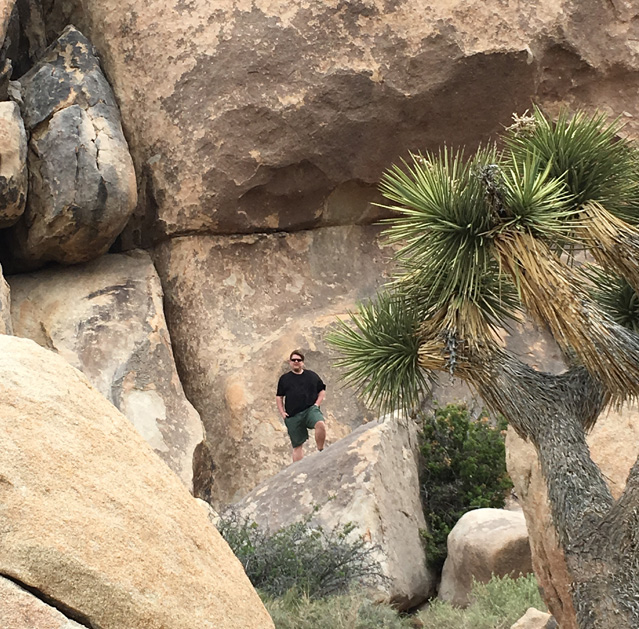 Conquering the rock formations of Joshua Tree
We also went to the zoo where the highlight was feeding the giraffes. I didn't do it, but was content watching Chris, Kim, and Hailey do so. While I don't necessarily have the love for them that Kim does I was pretty impressed with being that close to them. Truly magnificent animals. I did find it sad however at the number of enclosures which stated that the animals within were extinct in the wild. All in all it was a fun trip. The sights and company were terrific. Thanks to Jim & Karen for sharing their gorgeous place with us.
Mar 12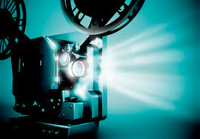 It's done!

After so many years it's finally done.

Last night the cabinet guys came back to finish their install which was the last thing we were waiting on. I sat down in there afterwards and must have had the biggest grin on my face. From the beginning I had a vision and knew what I wanted and going from my initial sketches to the end result, for the most part, it stayed the same. The display cabinet area and the location of the barn door were really the only things that got modified along the way.

Budget wise things stayed pretty close to what we were quoted, but time wise it was a joke. It has been a year almost to the day since we first signed the contract with the reno company. They were supposed to have been done last fall. To be fair, we went with a custom cabinet company for the display cabinet and shelving and that dragged on forever. But again, in the end I'm extremely happy with the end result. This is tailored to my wants and needs. I designed everything down to the last inch and hand picked all the components, from the speakers, TV, paint colours, even down to the lighting. It is the ultimate representation of my design sensibilities and technical know-how. This is not a home theatre for most people. This is a home theatre for Chris & I.

Now that it's complete, the reno company has asked to come and take pictures of everything and we'll be added to their portfolio on Houzz - which is the premier website for all things related to home design. In addition, they'll be submitting our home theatre for the local SAM awards which is the home builder and reno equivalent of the Oscars. I've also asked that I be credited as the designer.

With that done we're just waiting on a quote to get the basement bar and bathroom done. Hopefully we'll have that soon and get everything finished by summer time. With that our basement will finally be complete. Now excuse me, I'm off to go hang in my glorious man cave.
Feb 21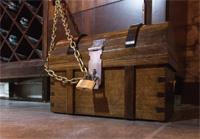 The past couple weeks have been pretty fun.

Two weekends ago we went up to Edmonton to see my Mom. Originally we were going to go up the Friday night but that was the only day the cabinet people could come to install the media cabinet and shelving in the basement. Turns out the door got damaged when they were putting on the latch at their shop so that didn't get installed. In addition there was issues with the shelving - we only ended up putting the one shelf up - so we decided they'd finish it all when the door was ready and have them come back. That's now scheduled for next weekend.

Anyway that meant we weren't able to leave until the next morning. We wanted to do something fun while we were there and it turned out some friends of ours had also gone up to visit the ice castle. Apparently this is something that is done every year where they essentially build a castle out of ice and people go and check it out. They'll embed lights in the ice so at night everything is lit up and looking pretty neat, they'll have speakers and music playing and so on. Of course when we went it was gorgeous and all the snow was melting. So instead of an ice castle it was more of an ice cave. Still, it was pretty cool and we had fun spending the day with my mom in the park where it was located and did a bunch of walking and wandering around watching people skate, do ice sculptures and so on. Sadly we had to leave the next day but we did manage to have brunch with Jay & Betty and their kids before heading back. A quick trip but one that was very enjoyable.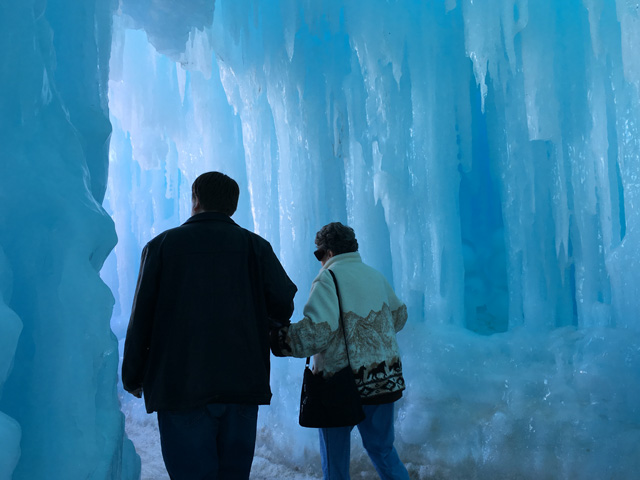 Exploring the Ice Castle
This weekend Carlie was in town and again wanting to do something different versus just sitting around drinking, Kim, Hailey, Chris, myself, and Auntie Bev all ended up going to the locked room. I hadn't heard of this before, but I guess it's a popular thing and many cities have local versions of them. There are different theme rooms and inside a group of people are locked in and they have to work together to figure out various puzzles and clues and escape within the allotted amount of time. For us, our room was pirate themed and we had an hour to try and get out. You'd think that would be a lot of time, but before we knew it we looked at the clock and only had 15 minutes left and were only maybe half way done. In the end, despite getting help from the staff on a couple of clues we didn't finish in time, although we were pretty close. They were nice enough to let us finish it out though.
It was a lot of fun and I would totally do it again - especially now that I sort of know what to expect and how things work. Although it was somewhat humbling realizing we failed whereas the group before us - a bunch of tween girls from a ringette team - succeeded. They must have cheated...ya, that's it.
Today's just a lazy day of relaxing. We have our neighbor coming over in a bit to discuss getting our basement bar and bathroom done. I'm hoping we can get a quote done up soon as we need to figure out our money for the year and decide how our spending is going to play out, prioritize things and so on.
Jan 23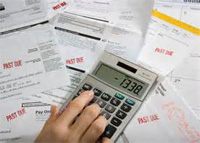 Well 2015 has come and gone...

Once again New Years was fairly subdued for us. We went to the Calgary Tower with our usual gang of friends for a fancy dinner. It was our first time at the restaurant there and while it was nice I'm not sure I'd be in a hurry to go back. It was really expensive for what you got. That said, the ambiance was pretty nice and eating while the restaurant slowly rotated was pretty cool. After dinner Chris & I came home and then popped over to the neighbors to ring in midnight.

With a new year comes thoughts to resolutions. I haven't really made anything specific, but there's some things I want to focus on. Now that the December doldrums are over my mood has improved and with the gym area of the basement being done I've been exercising again. In addition to the elliptical I'm thinking of adding a Bowflex so I can blast my quads. Ok, maybe not, but I'm wanting something fairly compact that I can do some strength exercises with. Flaman Fitness has them on sale right now so we'll likely get one delivered and setup. For her part, Chris has been going to the gym 3 times a week for over a year? now. And more recently we've been eating better, drinking less etc. She's lost a bunch of weight and is looking terrific.

There was hope that this year would bring a better outlook in terms of the economy, but the first two weeks pulled the rug out of that notion. True to form my financial advisor had me dump a bunch of money into the market right before everything went to crap. He cheerfully reminded me later that you can't time the market. Well he sure as hell can't. So worries about my job remain. We're thinking of even cancelling the trip to Hawaii we had planned. I've also come to realize lately, something which is gnawing away at me with each passing day, that I'm literally running out of time. There's only 15 years left until I'm at the point where I'd hope to retire. A few years ago it seemed like I had all the time in the world.

The basement is coming along. We got our couch in place a few weeks ago. The media cabinet should be installed soon and then the theatre room is done. We're also waiting on a quote to see how much it'd cost to finish the bar area and washroom. After that we just need to get the back yard done and then everything in the house is finished - we'll be at a place of contentment. Then it's just a matter of socking away money like crazy for that end goal of retirement. Fingers crossed everything else stays the same in the interim.