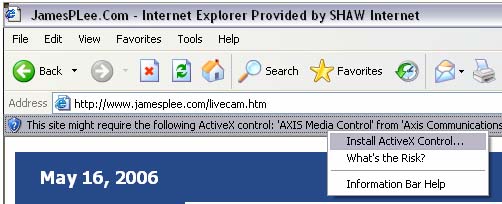 If you are running Internet Explorer you will see the 'This site might require the following...' appear near the top of the browser window. Click on it and select 'Install ActiveX Control...' to install the Axis Media Control software.
You may be asked to restart your computer, otherwise the livecam images should appear in the window within a few seconds.
You will only have to install the Axis Media Control software once. Afterwards you will no longer receive the pop-up warnings.
If for some reason the software doesn't install through the browser, you can download the latest version here.
Note: It's come to my attention that images still won't display in Internet Explorer 11 on Windows 10. To fix, you need to add the website to the Compatibility View. To do so, in Internet Explorer, go to Tools (Alt+X), Compatibility View settings, and add the website as below and click Close.