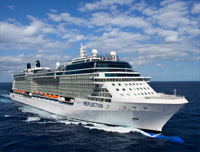 Back from our trip, as always I've kept a journal of our adventures. Enjoy!
Currently sailing up the mighty Mississippi River. For some reason I find it bizarre that a Cruise ship, especially one as large as the Reflection can do that. Itís considered a Sea day today, but we dock in New Orleans around 6:30pm. First day the weather was good, hot but not crazy, some clouds, humid. But today is overcast and rainy and a little chilly.

Getting to Fort Lauderdale was a bit of an adventure, we were an hour late taking off as we had to de-ice. Then on our approach into Toronto the pilot aborted the landing at the last second and gunned the engines, banking hard as we climbed to come around for a second attempt - apparently another plane hadnít cleared the runway. We managed to make our flight with no time to spare. Then I ended up sitting next to another passenger that was a barrel of snot and could hardly breathe. I was in hell for the 3.5 hour flight as all I could focus on was that sure as shit I was gonna get sick.

Not that I helped matters as after we got on the ship we all proceeded to tie one on. Things were going good, it was fun and relaxing, enjoying the start of our vacation with a nice manageable buzz going - until we hit the Martini Bar. Then as usually happens it was downhill from there. Both Kim & I ended up getting sick which I havenít done in years. Needless to say our next day was pretty slow.

The ship is nice, itís a bit bigger (extra deck?) than the Equinox/Solstice, but basically the same. For the first time ever we have a regular balcony cabin and not a suite. Not having a butler is weird. But we still got a Concierge class so that combined with our Elite status still gives us a bunch of perks. The demographics is all old people - weíd be considered young on this trip - which we found odd considering weíre going to Mardi Gras.

Currently in the middle of the ocean enroute to Grand Cayman. The big easy was a lot of fun, but surprisingly gross, grimy, and industrial. After we were cleared to disembark we beelined it to Frenchmen Street which we had heard from several people was the place to be - basically where the locals went to have fun. We tried to get in to The Spotted Cat which our neighbors had recommended but there were no tables to sit at. The next place we tried you could only get a table if you were eating - my patience was quickly running out when we finally found a club that had space at the bar so we bellied up there. They had a blues band playing and while not amazing, they were enjoyable to listen to. The bathroom situation was interesting though as the toilets had overflowed and they closed them on the main floor forcing us to go upstairs. There I was less than thrilled to find a bathroom attendant inside. Iím a shy enough pee-er to begin with, never mind having to go a foot away from someone watching you and then be expected to tip him after.

We stayed for several songs and then wandered to another club. We quickly learned that the time to go into a club is between band sets as once someone started playing the place would quickly fill up. This place was pretty scuzzy and reminded me of the shitty university clubs I used to go to back in the day, but the band was really good and soon the place was jumping. They were a cover band but played a wide variety of songs and had lots of energy. It was a really fun night.

On the second day we wandered ashore in the early afternoon and ended walking the length of Bourbon Street. Even at 2pm the place was crazy full of people. You really had to watch where you stepped as it was easy to slip on all the beads on the ground. From there we grabbed the public transit trolley to go see their famous cemetery but we arrived just as it was closing. Somewhat deflated we found ourselves back at the start of Bourbon Street. Chris and I decided to stay and party while Kim went back to the ship. We spent several hours there bar hopping and taking in the um, lovely scenery and Chris acquired many beads. With the right group of friends it would be a blast to party there. We didnít stay too late though as we had to be up early for the big parade.

The next morning came and we were all so tired that even we had bought tickets we said screw the parade and just rested instead. But by lunchtime we got our oomph back and when it looked like the parade stands werenít that far away we wandered up there. As the parade was basically a non-stop, all day event we still managed to experience a decent amount of it. Although after awhile it started to all kinda be the same. All the floats were the same with just a different character on front and they all threw out the same assortment of beads and other trinkets. Iím glad we got to see it, but personally I think the Stampede parade is better.

We then hit Harrahís casino on the way back and wasted some money. Or at least I did, everyone else seemed to be wining left and right. When we got back onboard we got our drink on and had a yummy dinner at the specialty restaurant up on the lawn area of the ship and said goodbye to the Big Easy.

Second last day in the Caribbean. Just got up to the sun rising and still enroute to Cozumel and breakfast has been ordered. We had so much fun yesterday with the stingrays. On our first cruise oh so long ago we went there and had a great time snorkeling and watching them below us. This time however we stopped on the sandbar where the water was only a few deep and you could stand. I had a blast swimming with them and touching them as they went by. Iíd hold out my hand and theyíd think I had food and swim up to me and lunge at my hand bumping it with their Ďnoseí. We spent a good chunk of time there before moving on to one of the coral reefs. The water there was really rough and my snorkel kept closing on every 2nd breath, so I quickly went to get back in the boat and while waiting for some douche who was standing on the stairs to get a new mask got pushed up against the boat by a wave and scraped the crap out of my leg. So I was a bit of a grumpy bump, but on our last stop it was a bit calmer and I made out ok. Saw some more stingrays and fish and corals.

On the trip back to shore one of the guys cut open a conch shell he had snagged from the ocean shore and we saw how they get the Ďmeatí out and they sliced it up and gave everyone samples. They said Chris could have the beautiful shell, but I didnít think the border dudes would have allowed us to bring it back. Unfortunately it was a short day as we had to be back on board by 3pm. So we only had time to have a quick rum punch at one of the dockside tourist trap bars before catching the last tender back to the boat.

Homeward bound sadly. Relaxing on our deck listening to the crashing waves while Chris is packing our stuff and getting organized for tomorrowís departure off the ship. Yesterdayís stop in Mexico was fun. We actually managed to venture beyond the tourist trap village this time. Cozumel was the last stop on our very first cruise and it was fitting that the Carnival Valor which was our first ship was docked alongside us. We had booked an afternoon visit to the Mexico Discovery Center where we learned a bunch about the country and itís history. We also got to grind up cocoa beans and make our own chocolate. And we finished with a Tequila tasting tour. Iím glad we didnít just do the usual stay hangout at a bar all afternoon. That said, it was our final stop so we did hit up Senior Frogs before getting back on board. Chris & I were in a party mood but Kim wasnít feeling it so we soldiered on without her.

Chris is looking forward to getting back but as was the case on our last big vacation I donít want to go home. Iíd be perfectly content delaying reality for a little while longer.
We didn't take a lot of pictures this trip as I didn't take my camera. There weren't any from Grand Cayman and some from Bourbon Street we um, obviously couldn't show. But here's some of what we did take:
It was a fun vacation, we can't wait for our next cruise in a few months to Alaska!