---
Apr 1
Unlike the lame Facebook posts of today, there's no joke to be found here.
As per the graphic, this little personal website of mine has been up and running for 15 years (as of a few weeks ago) now. Heck, I've been blogging before blogging was even a word! As has been mentioned previously I had hoped to have the site redesigned for the event, but the combination of lethargy, general busyness, and a hard drive crash have all conspired to prevent this from happening.
I had a reminder last week that I should really get on it when I went to post an update and it failed to connect. After much head scratching and a phone call to my provider I was kindly informed that they no longer support Frontpage extensions (gee thanks for the heads up). So I had to revert back to updating via FTP which is a pain. So yes, I really need to get with a newer platform.
Last month I made the decision to have a 'dry March' and not consume any alcoholic beverages. Mostly to prove that I could do it but also as I had a scheduled MRI and wanted to try and be as healthy as possible for it in the hope that when I meet with my cardiologist it'll be all unicorns and rainbows for me. I mostly succeeded although I did have a few on St. Paddy's Day. Being a long weekend I celebrated this weekend much to Chris' annoyance who is tired of waking up to me rocking out in the garage at 4am. But I'm going to give it another go this month, because really April is such a waste of a month to begin with. We'll see how it goes.
Chris' Dad & Lori were here this weekend for a visit which was nice. Kim, Hailey, and Michael were also here for our traditional Easter Rib Dinner. Ok, so it's not actually a tradition, but maybe it should be. Chris has been in love with her Instant Pot ever since she got it, while I still prefer the slow cooker. So we decided to have a Rib-off to see which was better. I had to swallow my pride as I think hers came out on top - but only because I messed up the heat setting on mine. Normally I would have done eight hours on low. But we only had six hours to cook and instead of putting it on high, I kept it on low - as a result my ribs while tasty were a bit chewy. So really it wasn't a fair fight.
With regards to getting our back yard finished - phase 2 of our project - there's been some interesting developments. Basically the people who did all the landscaping have apparently dropped off the face of the Earth. So we brought in a couple different companies and met with them earlier in the week. We explained our 'vision' to them and they're going to come back to us with some design ideas and a quote. We decided we're not going to have a deck built after all and will instead just extend our patio stone into the designated space where the pergola will be built. This should save us a bunch of money as a result. Over the next week or so we'll pick a company to work with and get the ball rolling and hopefully be able to enjoy our completed back yard in time for summer.
Mar 3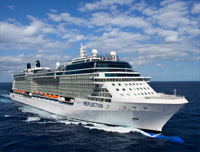 Back from our trip, as always I've kept a journal of our adventures. Enjoy!
Currently sailing up the mighty Mississippi River. For some reason I find it bizarre that a Cruise ship, especially one as large as the Reflection can do that. Itís considered a Sea day today, but we dock in New Orleans around 6:30pm. First day the weather was good, hot but not crazy, some clouds, humid. But today is overcast and rainy and a little chilly.

Getting to Fort Lauderdale was a bit of an adventure, we were an hour late taking off as we had to de-ice. Then on our approach into Toronto the pilot aborted the landing at the last second and gunned the engines, banking hard as we climbed to come around for a second attempt - apparently another plane hadnít cleared the runway. We managed to make our flight with no time to spare. Then I ended up sitting next to another passenger that was a barrel of snot and could hardly breathe. I was in hell for the 3.5 hour flight as all I could focus on was that sure as shit I was gonna get sick.

Not that I helped matters as after we got on the ship we all proceeded to tie one on. Things were going good, it was fun and relaxing, enjoying the start of our vacation with a nice manageable buzz going - until we hit the Martini Bar. Then as usually happens it was downhill from there. Both Kim & I ended up getting sick which I havenít done in years. Needless to say our next day was pretty slow.

The ship is nice, itís a bit bigger (extra deck?) than the Equinox/Solstice, but basically the same. For the first time ever we have a regular balcony cabin and not a suite. Not having a butler is weird. But we still got a Concierge class so that combined with our Elite status still gives us a bunch of perks. The demographics is all old people - weíd be considered young on this trip - which we found odd considering weíre going to Mardi Gras.

Currently in the middle of the ocean enroute to Grand Cayman. The big easy was a lot of fun, but surprisingly gross, grimy, and industrial. After we were cleared to disembark we beelined it to Frenchmen Street which we had heard from several people was the place to be - basically where the locals went to have fun. We tried to get in to The Spotted Cat which our neighbors had recommended but there were no tables to sit at. The next place we tried you could only get a table if you were eating - my patience was quickly running out when we finally found a club that had space at the bar so we bellied up there. They had a blues band playing and while not amazing, they were enjoyable to listen to. The bathroom situation was interesting though as the toilets had overflowed and they closed them on the main floor forcing us to go upstairs. There I was less than thrilled to find a bathroom attendant inside. Iím a shy enough pee-er to begin with, never mind having to go a foot away from someone watching you and then be expected to tip him after.

We stayed for several songs and then wandered to another club. We quickly learned that the time to go into a club is between band sets as once someone started playing the place would quickly fill up. This place was pretty scuzzy and reminded me of the shitty university clubs I used to go to back in the day, but the band was really good and soon the place was jumping. They were a cover band but played a wide variety of songs and had lots of energy. It was a really fun night.

On the second day we wandered ashore in the early afternoon and ended walking the length of Bourbon Street. Even at 2pm the place was crazy full of people. You really had to watch where you stepped as it was easy to slip on all the beads on the ground. From there we grabbed the public transit trolley to go see their famous cemetery but we arrived just as it was closing. Somewhat deflated we found ourselves back at the start of Bourbon Street. Chris and I decided to stay and party while Kim went back to the ship. We spent several hours there bar hopping and taking in the um, lovely scenery and Chris acquired many beads. With the right group of friends it would be a blast to party there. We didnít stay too late though as we had to be up early for the big parade.

The next morning came and we were all so tired that even we had bought tickets we said screw the parade and just rested instead. But by lunchtime we got our oomph back and when it looked like the parade stands werenít that far away we wandered up there. As the parade was basically a non-stop, all day event we still managed to experience a decent amount of it. Although after awhile it started to all kinda be the same. All the floats were the same with just a different character on front and they all threw out the same assortment of beads and other trinkets. Iím glad we got to see it, but personally I think the Stampede parade is better.

We then hit Harrahís casino on the way back and wasted some money. Or at least I did, everyone else seemed to be wining left and right. When we got back onboard we got our drink on and had a yummy dinner at the specialty restaurant up on the lawn area of the ship and said goodbye to the Big Easy.

Second last day in the Caribbean. Just got up to the sun rising and still enroute to Cozumel and breakfast has been ordered. We had so much fun yesterday with the stingrays. On our first cruise oh so long ago we went there and had a great time snorkeling and watching them below us. This time however we stopped on the sandbar where the water was only a few deep and you could stand. I had a blast swimming with them and touching them as they went by. Iíd hold out my hand and theyíd think I had food and swim up to me and lunge at my hand bumping it with their Ďnoseí. We spent a good chunk of time there before moving on to one of the coral reefs. The water there was really rough and my snorkel kept closing on every 2nd breath, so I quickly went to get back in the boat and while waiting for some douche who was standing on the stairs to get a new mask got pushed up against the boat by a wave and scraped the crap out of my leg. So I was a bit of a grumpy bump, but on our last stop it was a bit calmer and I made out ok. Saw some more stingrays and fish and corals.

On the trip back to shore one of the guys cut open a conch shell he had snagged from the ocean shore and we saw how they get the Ďmeatí out and they sliced it up and gave everyone samples. They said Chris could have the beautiful shell, but I didnít think the border dudes would have allowed us to bring it back. Unfortunately it was a short day as we had to be back on board by 3pm. So we only had time to have a quick rum punch at one of the dockside tourist trap bars before catching the last tender back to the boat.

Homeward bound sadly. Relaxing on our deck listening to the crashing waves while Chris is packing our stuff and getting organized for tomorrowís departure off the ship. Yesterdayís stop in Mexico was fun. We actually managed to venture beyond the tourist trap village this time. Cozumel was the last stop on our very first cruise and it was fitting that the Carnival Valor which was our first ship was docked alongside us. We had booked an afternoon visit to the Mexico Discovery Center where we learned a bunch about the country and itís history. We also got to grind up cocoa beans and make our own chocolate. And we finished with a Tequila tasting tour. Iím glad we didnít just do the usual stay hangout at a bar all afternoon. That said, it was our final stop so we did hit up Senior Frogs before getting back on board. Chris & I were in a party mood but Kim wasnít feeling it so we soldiered on without her.

Chris is looking forward to getting back but as was the case on our last big vacation I donít want to go home. Iíd be perfectly content delaying reality for a little while longer.
We didn't take a lot of pictures this trip as I didn't take my camera. There weren't any from Grand Cayman and some from Bourbon Street we um, obviously couldn't show. But here's some of what we did take:
It was a fun vacation, we can't wait for our next cruise in a few months to Alaska!
Jan 29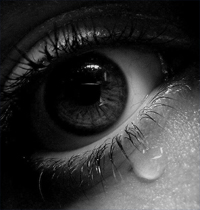 Words canít express how sad I feel right nowÖ.but I feel I need to at least tryÖ

After 16 wonderful years we finally had to say goodbye to our cat Mindy. She hadnít been doing well for a few months now and only a couple days ago Chris had asked my opinion of when it was 'time'. I replied that as soon as she couldnít get around we would take her in to be put down. This morning she texted me to call her and when I talked to her she said the time was now. So I came home, we called the vet and went in. Before we left we both hugged each other and had a good cry. Mindy was next to us on a blanket on the couch curled up and sleeping. On the ride to the vet we dispensed with the usual cat carrier and Chris just held her in her arms and she was alert and taking in the wonder of travelling in a car and getting to see the scenery passing by. All I could think of was that she was taking in this new experience as we were taking her to her death. When we got there I didnít even have the balls to go in and be with her in the end. I just couldnít do it and I feel forever ashamed that Chris had to do it alone.

When we got home and walked through the door it really hit me that she was gone. It seemed so surreal and wrong. Something that was a fundamental part of lives for as long as weíd known each other was missing. The house suddenly didnít feel like a home and instead just felt empty. We still donít know what was wrong with her. We had test after test done on her and everything kept coming back ok. But she kept losing weight despite everything we did. She was moving less and less and in the end falling down. She couldnít go on like that.

Some might be tempted while recognizing itís always sad losing a pet to say just that - thatís itís just a pet. And after losing my Dad Iíll admit that my outlook on a number of things forever changed - but the hurt I felt today I havenít felt since I lost him. Not having children, perhaps we feel this loss more than some would.

Despite the sadness, a couple things bring a smile through the tears. On the last couple nights she was with us she slept with Chris through the night which is something sheíd never done before. And in the past few months she was a permanent fixture on Chris, cuddling with her throughout her final days. As for me, two nights ago we were watching TV and I had a craving for Creme Soda which I havenít had in years and we just happened to have a bottle. When I sat down with it Mindy perked up sniffing the air and came over to me and was all over me wanting to know what I was drinking. It was hilarious.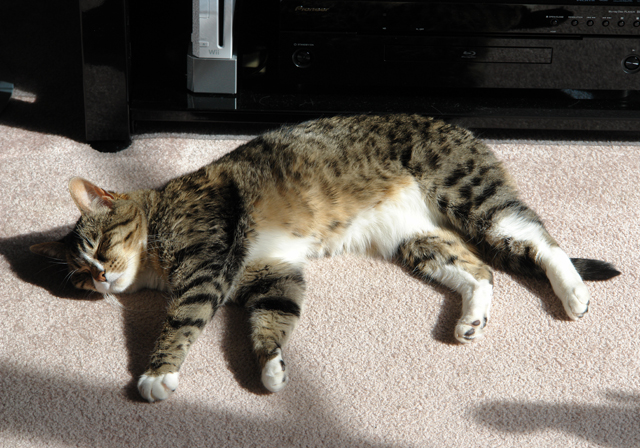 Our Sun Kitty
I went through years worth of pictures and there were so many of her to choose from, I really liked one where she was standing on her tail which is what she always did due to her short front stubby legs. But I think this one is what Iíll immortalize her with - because if there was a sliver of sunlight anywhere in the house, she would find it and soak it in.
Goodbye Mimmer.
Jan 20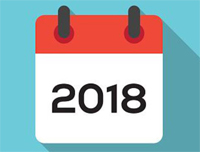 Welcome to 2018!
As mentioned in my last post New Years was fairly subdued. We went over to Chuck & Tracy's and spent most of the evening with them. Funny story, anyone who knows me knows I'm a cat person and am pretty ambivalent about dogs. And on the dog scale small dogs are much further down on my appreciation level. But I met their new dog which is a Chihuahua and fell in love with him. Apparently he's not crazy about men but by the end of the night we were best friends with him hanging comfortably on my lap. We left in time to get home before midnight which was probably a good thing as I hear someone was up to 8 in the morning spilling wine everywhere...
When we got home we dutifully headed to the neighbors and did the countdown and the smoochy smooch. Another year was done.
So by now I'm supposed to have bought a new gym membership and pledged to be healthier right?? Well I haven't made any resolutions, but I was going to try and have a 'dry' January and not drink at all. You know what they say about best intentions...we went out one night while the World Junior Hockey championship was on and I decided to have 'just one beer'...needless to say it was a late night and I felt like crap the next day. Ok, so maybe I'll try a dry February. Nope, going on a cruise. Perhaps March? Ya, let's go for March.
I had planned on updating this website and bring it into the modern era - well somewhat modern anyway. Early last year I had begun tinkering with Microsoft Expressions which was their web design software that went end of life but which they made free after. I was somewhat well underway with getting familiar with it and migrating this site when my hard drive crashed and I lost everything. I've only recently looked at it again and it's disheartening having to start from scratch again. Pretty sure I won't meet the 10 year March anniversary of getting it done, but I do hope to get it complete sometime this year.
I also recently jumped on the cryptocurrency bandwagon. I was literally sick to my stomach when I realized that had I got in when I first heard about it I would have been able to retire. But back then I didn't really understand it so I ignored it. So in the spirit of FOMO (fear of missing out) I signed up on an Exchange and started trading. Of course as with most things, by the time the mainstream media notices and Joe Sixpack hears about it the window of opportunity is largely gone. But we'll see. Although Bitcoin is what everyone is talking about I'm more interested in Ethereum which I think will end up dominating. It's been fun watching the wild price fluctuations. Unlike some people, I haven't mortgaged my house to fund my holdings so I'm not about to jump off a bridge when it's tanking. At last count I've made a whopping 2% on my investment.
Not much else is new although in a nod to our getting old Chris & I have recently discovered the joy (frustration) of jigsaw puzzles. Our kitchen table is now a work area to some monstrously hard puzzle from famed maker Cobble Hill. We're almost done but now all the remaining pieces don't have any identifiable markings so it's simply trial and error to get them to fit. So ya, in addition to reading books before bed we're now full fledged puzzlers. Next up we'll be playing bridge with the 'girls' on the weekend. Sigh.