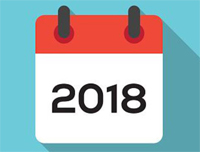 Welcome to 2018!
As mentioned in my last post New Years was fairly subdued. We went over to Chuck & Tracy's and spent most of the evening with them. Funny story, anyone who knows me knows I'm a cat person and am pretty ambivalent about dogs. And on the dog scale small dogs are much further down on my appreciation level. But I met their new dog which is a Chihuahua and fell in love with him. Apparently he's not crazy about men but by the end of the night we were best friends with him hanging comfortably on my lap. We left in time to get home before midnight which was probably a good thing as I hear someone was up to 8 in the morning spilling wine everywhere...
When we got home we dutifully headed to the neighbors and did the countdown and the smoochy smooch. Another year was done.
So by now I'm supposed to have bought a new gym membership and pledged to be healthier right?? Well I haven't made any resolutions, but I was going to try and have a 'dry' January and not drink at all. You know what they say about best intentions...we went out one night while the World Junior Hockey championship was on and I decided to have 'just one beer'...needless to say it was a late night and I felt like crap the next day. Ok, so maybe I'll try a dry February. Nope, going on a cruise. Perhaps March? Ya, let's go for March.
I had planned on updating this website and bring it into the modern era - well somewhat modern anyway. Early last year I had begun tinkering with Microsoft Expressions which was their web design software that went end of life but which they made free after. I was somewhat well underway with getting familiar with it and migrating this site when my hard drive crashed and I lost everything. I've only recently looked at it again and it's disheartening having to start from scratch again. Pretty sure I won't meet the 10 year March anniversary of getting it done, but I do hope to get it complete sometime this year.
I also recently jumped on the cryptocurrency bandwagon. I was literally sick to my stomach when I realized that had I got in when I first heard about it I would have been able to retire. But back then I didn't really understand it so I ignored it. So in the spirit of FOMO (fear of missing out) I signed up on an Exchange and started trading. Of course as with most things, by the time the mainstream media notices and Joe Sixpack hears about it the window of opportunity is largely gone. But we'll see. Although Bitcoin is what everyone is talking about I'm more interested in Ethereum which I think will end up dominating. It's been fun watching the wild price fluctuations. Unlike some people, I haven't mortgaged my house to fund my holdings so I'm not about to jump off a bridge when it's tanking. At last count I've made a whopping 2% on my investment.
Not much else is new although in a nod to our getting old Chris & I have recently discovered the joy (frustration) of jigsaw puzzles. Our kitchen table is now a work area to some monstrously hard puzzle from famed maker Cobble Hill. We're almost done but now all the remaining pieces don't have any identifiable markings so it's simply trial and error to get them to fit. So ya, in addition to reading books before bed we're now full fledged puzzlers. Next up we'll be playing bridge with the 'girls' on the weekend. Sigh.