You may have noticed a lack of posts lately...
My website host recently removed support for FrontPage Extensions (without telling me). So when I last updated the website, any page that I had updated that had the year linkbar in it suddenly broke. So as you can see here, there no longer is the menu bar with the various years showing as I had to remove it.
Last year I looked at somewhat updating the site to a slightly newer platform - Microsoft Expressions - and had started working on it and then my hard drive crashed and I lost everything. I thought about hiring a web designer to just do it for me but my laziness got in the way. Fast forward until now and I once again started working on a new site design. I got about 75% of the way in terms of the look I wanted, which wasn't a huge change, just a bit more refined. But I couldn't figure out how to handle everything collapsing properly when resized to look ok on smartphones or tablets. With enough time I probably could have figured it out, but now that the site was somewhat broken I decided to just bite the bullet and hire a professional.
So I found a local developer and will be working with them to get everything updated. It took me awhile to find someone because when I mentioned the platform I wanted to use I'm sure they thought I was some web luddite. It was painfully obvious how much technology had passed me by since I started the site. Most everyone was like 'why don't you use Wordpress'? As Wordpress is the current darling of bloggers. It basically gives you drag and drop web publishing. All you have to do is write your post, drag a few pictures into it and Bob's your Uncle. That said, and despite offering a number of templates, for me, all Wordpress sites look the same. And I wanted mine to retain it's look. I also wanted to still do this somewhat old school and be involved in the coding and understanding how everything worked.
So hopefully in the next few weeks I'll be able to unveil the new improved look.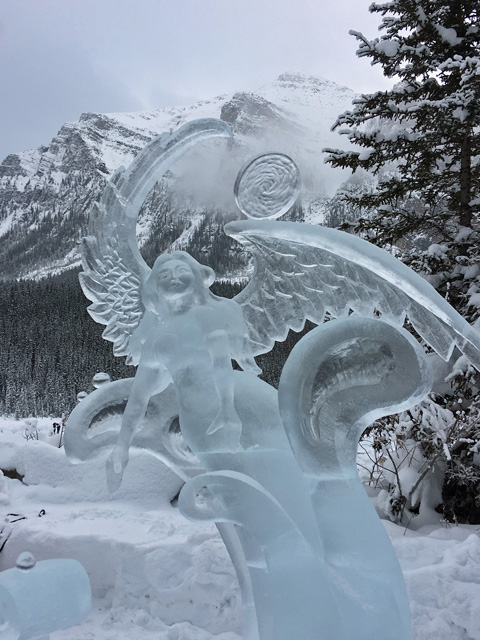 Banff Snow Days
Last month the Blanices (Blaine and Janice) and Mori (Matthew and Dori) came with us to Snow Days in Banff which is a winter festival that happens every year in January. We decided to be all fancy and stay at the Banff Springs hotel and I have to say I was quite impressed with it. Chris & I had stayed there once before but had were in the main building and our room was laughably small. This time however we stayed in the 'newer' Gatehouse wing and had a really nice suite. We hung out in the pool, I went for my walks, and just had a great time. We also went to Lake Louise where they had their ice carving contest and in downtown Banff they had snow carvings. All in all a really nice getaway with friends.
Last post I mentioned we were thinking of going Solar. Well it's official now and the contract is signed. Likely in April or May we'll have a bunch of panels on our roof generating electricity. So I'm excited for that. As for finishing the yard, we put down a deposit with a company that builds fancy metal pergolas to hold our place in their schedule this year. We also got in touch with a landscaper who does smaller jobs and once the snow is gone we'll get together to discuss what needs to be finished. Hopefully come summer time it will all be done and we'll be able to spend our days lounging outside in total comfort.