---
May 18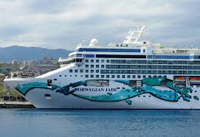 Currently dealing with some health issues...
But I thought I'd update the site with details and pictures of our epic Transatlantic trip in the meantime. As usually happens while on these cruises I tend to journal every day or so and just jot down my thoughts of the vacation. As such there's not much editing done, things can sometimes be out of order, and are essentially just raw notes. Here then are the chronicles of our adventures:
Today we were supposed to go ashore and go on a 'Taste of Miami' tour where they take you around to various restaurants to sample dishes that are iconic to the city and culture. That didn't happen. Being that yesterday was my birthday we were busy toasting my aging existence. Blaine and Janice decorated our room while we were out which was a pleasant surprise. Normally I'd be the one getting silly and regretting all the libations consumed, but I was good for once. Blaine on the other hand was ready to party hard so we stayed up until early in the morning trying our best to accommodate him. Needless to say we didn't feel like only getting a few hours sleep so we cancelled the tour. I'm currently relaxing topside in a nicely shaded cabana and Chris is napping.

Yesterday was Key West and it was a lot of fun. Kept saying it'd make an awesome overnight spot, but figured the cruise lines probably would end up losing a big chunk of their passengers who weren't able to stagger back in time. We rented a six person electric cart to get around, but really everything around Duvall street - the main drag - is close enough that you could just walk everywhere.

I got my picture taken at the Southern-most point in the Continental US marker, so I was happy. I had read that the lineups were really long, but it wasn't too bad. The worst was sweating up a storm while waiting. We hit a bunch of bars for some bevies and I was delighted that so many of my favourites - Sr. Frogs, Fat Tuesday, Hard Rock - were all within a few blocks from each other. It was a fun stop and great party place.

For dinner last night we went to the Brazilian place where they keep bringing you skewer after skewer of meat until you tell them to stop. My favourite was the lamb chops. So good. We went to the dinning room on our first night and both Chris and I thought it sucked, but Blaine and Janice liked their meals. We'll give it another go, but we might be eating at the specialty restaurants quite a bit.

The ship is good, this being our third time on this class, and we got a suite in the Haven which is its own little world tucked away on the ship where Haven guests have their own pool, Jacuzzi, solarium, sun deck, drinks, snacks etc. We always get a little snobbish thrill when we get into the elevator and swipe our card to go to the 14th deck and other people in the elevator are like 'why can't we go there'? They also refurbished the ship a couple weeks ago so everything is new and shiny.

Getting to the ship was a bit of a shit show as I got into a spat with the Customs Agent. As always happens, my 'ticket' got a big X stamped on it by the kiosk machine. So when we got to the agent Chris simply asked why to which he curtly replied that it was 'not her concern'. Then he asked me to put my hands on the scanner to take fingerprints at which point I stated that I thought Canadian citizens were exempt from having to do so. Of course then I was questioning his authority and he had to remind me that I was a low life nobody with zero legal rights and marched us to the secondary screening room. So I'm thinking we're probably going to miss our flight as they're going to be dicks and make us wait there a long time. There was a lady next to us sobbing because her flight was leaving in 10 minutes and they simply didn't give a shit.

After 15 or 20 mins they called us up, asked if Chris was married to me, asked us if we were going on a cruise and stamped our papers and let us go. What in the hell was the point? Every time we travel to the US it's so stressful for me that we're gonna miss a connecting flight or I'm gonna be denied entry and we're going to be out 15 or 20 grand for a vacation I can't get to. This over and above the security farce you're forced to go through at the airport. Remember boys and girls, it's not sexual assault if your friendly TSA agent is going to town rubbing your genitals...

Day 2? at sea...I think? Kinda lost track of time at this point. I know we have several more days of nothing but open sea before our next stop. We just finished checking our bill which normally we don't do until the end of the trip....let's just say the Casino has been a cruel hearted mistress. Maybe we'll win back what we lost right? Right?!?!

Like with our Transpacific cruise the frequent time changes are making it interesting. Almost every night we're having to move the clocks forward. Soon I'll be watching the hockey playoffs at 4am. I'm feeling somewhat guilty as on most cruises I usually get up pretty early and will walk a few kilometers around the jogging track. But so far this trip I've been lazy and have been sleeping in. It occurred to me that due to the demographics on the ship that the fitness centre is probably empty - I should take advantage of that. Apparently the average age onboard is 65, but it seems higher. We always joke that 'maybe we're the hotties'...this time it's a fact.

Still at sea for two more days before we get off in the Azores. Last night was pretty rough with 22' waves and gale force winds. A younger guy next to me in the Casino bathroom puking all over the place. Outside decks closed. Stuff in the cabins sliding back and forth and falling to the floor etc. It is what it is. With all the rocking back and forth though all you want to do is sleep. Our sea day routines have pretty much been established - get up late, eat, nap time, wander the ship, Casino, lunch, maybe another nap, dinner, Theatre show, Casino, drink, drink, drink, bedtime. We did manage to hit the spa yesterday and I was in relaxation heaven after getting a head, arms, feet massage.

We planned on having a little party in The Haven courtyard today, but with the crappy conditions I'm not sure how much enthusiasm remains. The downside of postponing it is with each passing day the average temperature has been dropping. From the high 30's in Florida to 16 degrees currently.

Let's see, where are we? Yesterday we stopped in the Azores and it was our first time there. Much like Madeira, the main island is made from volcanic rock and as such is beautifully lush and green. I don't think I've ever seen so much green and such a vibrant green in my life. Instead of doing the boat tour gong show we simply rented a couple vehicles and set out on our own. The island isn't overly large and you could probably go all around it in just a few hours. Our first stop was to Lago Fugo? Which is a volcanic crater lake high up in the hills. Again, just gorgeous scenery. From there we went to another crater lake on the other side of the island and then stopped for a nice lunch. We then decided to split up and head back to the ship. That's when the fun started...Even though we had a GPS it was next to useless in the main town. Being that you're in Europe you can't see the street names until you pass them. Pressing 'Home' as the destination took us to a different car rental office. Trying to find a gas station would take us to non-existent stations etc. etc. Couple that with driving on tiny narrow streets with people darting in and out of traffic, unsure of the traffic signage - you'd be facing a green light and a stop sign at the same intersection - and it led me to have a major meltdown. It was like when you watch the Amazing Race and one couple just loses it. Thankfully Chris was able to calm me down and we finally got back to the right rental place. Not wanting to end the stop on a sour note we popped in to a local restaurant for a couple beers before getting back on the ship.

It was a beautiful place and I wish we had more time to spend there. You'd think after six straight days at sea they would have over-nighted there.

Afterwards we had our butler bring us up some champagne to enjoy as we pulled out of port. We've really enjoyed travelling with Blaine, Janice, her Dad George, and their daughter Maya whose 3? She is adorable once she warms up to you but she's also a whirlwind of energy. While enjoying sail away she was climbing up the slats on one of the Cabanas. I warned her that wasn't probably a good idea and they told her to get down, which she did. But only a few minutes later she was back up there again and predictably she fell. She was crying and screaming and it took us awhile to determine if she was really hurt or not. Then I looked at her leg and could tell something wasn't right. So they took her to the medical centre. Later they called and Blaine said she had broke her leg. I thought he was joking. He wasn't. She broke her leg in two places. Obviously it sucks and we feel bad for all of them. But shit happens. From what they told us the medical centre has been terrific throughout her ordeal and hopefully once home she'll be back to her usual self in a couple months.

On a happier note Chris and I did extremely well at the Casino. It seemed like we just could not lose and kept winning at every slot machine we played. I ended up increasing what I started with by a factor of eight. But last night was also a very late night and we're both feeling a little slow today.

On the plane home, currently somewhere over Newfoundland. We got the new 'improved' pods this time. They're ok. But I prefer the old ones as I found them comfier. The larger screen is an nice HD upgrade however. Also currently wiping snot from my nose as I caught a cold on our last day in London. But hey, it just wouldn't be a vacation for me without getting sick - Every. Single. Time.

My fourth visit to London was good even if it was only for a few days. We finally went and saw the Tower of London which is something I wanted to do last time, but it just didn't happen. Chris & I waited for the free tour by one of the Beefeaters and it was interesting finding out all the things that went on there over the centuries. The previous day we had gotten off the ship after parting ways with the Blanice's and caught a bus tour which took us to Stonehenge and Windsor Castle before dropping us off at our London hotel. Stonehenge was pretty cool - again, something I've wanted to see for awhile. The main thing that struck me however was that it was smaller than I expected as it's apparently lost a number of the original stones over the years. We didn't go into Windsor Castle instead opting to just relax at a local pub.

Our first stop after the Azores was in Cork, Ireland and we spent the day with Janice's Dad on a private tour. Janice and Blaine couldn't cone as they had taken Maya to the hospital to get her leg checked. We went to Blarney Castle with its beautiful surrounding areas. We didn't go up it and kiss the stone as there was already a big lineup even though it was early in the morning. But I was happy just toodling around taking a bunch of pictures of the gorgeous scenery - think Butchart Gardens with a Castle in the middle of it all. We also stopped at the quaint town of ?? Where despite its small size was the source of a pivotal battle determine the fate of Ireland back in the day. We had lunch at a local pub and I got to ogle the pretty waitresses and listen to their adorable accents.

We stopped the next day in Falmouth which is also a smaller port town. Our entire group spent the day wandering around and we also popped into the maritime museum which was surprisingly enjoyable. True to form we ended up in a pub and shared a few pints with one of the locals who regaled us with his thoughts on everything from hippies to Germans. This stop was the only port of the trip where we had to tender to get back to the ship and it was a memorable experience. The winds had suddenly picked up and it was an extremely bumpy ride back with the front of the tender boat under water most of the time and everyone at the front getting soaked from all the water coming in through the windows. At one point I honestly was worried we might capsize. Later that night we found out that two of the tender boats had crashed into each other and a number of people were injured.

As for the ship itself we had no huge complaints although it was our second time on the Jade and our third time on that class of ship. Our biggest disappointment was the food. We quickly tired of the buffet and the dining room wasn't that great. Thankfully the specialty restaurants were all excellent. The biggest plus was that we were in The Haven which is their little private slice of paradise sealed off from the rest of the ship. We had our own solarium, pool, hot tub, deck with gazebos, breakfast restaurant, and dedicated wait staff to bring us drinks and snacks. This time we made the most of it and some of my fondest memories were just hanging out in there with everyone. The ship had also just been refurbished a couple weeks before so all the decor, chairs, bedding etc. were all new.

Just landing in Toronto now where we have a connecting flight and then we'll finally be home. It's been a great vacation. Usually at some point during one of our long get aways I'll get to a point where I'm done with it and just want to go home. But that didn't happen this time. I could have stayed in Europe forever and I did not want to leave. I was hoping this trip would have done me good. I thought two weeks away from work and breathing in the sea air would have been therapeutic. Sadly that was not the case. Looks like there's some health issues I finally need to deal with...anyways, here's some pictures of our adventures:
Apr 16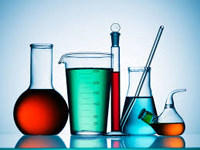 Currently enjoying an extra long Easter weekend. In addition to having Good Friday off I also took off the Monday. I've been feeling 'off' the past few weeks so I'm going to take advantage of the break and just relax and putter around the house and take it easy.
Kim & Hailey came over for dinner Friday night. Chris had slaved away all day making a yummy Ham and scalloped potatoes. To finish it off we had a tasty upside down pineapple cake. Afterwards we hung out in the garage and played some Mario Kart (I kicked butt). Sadly the rest of the family was scattered to the winds and couldn't come but it was still an enjoyable evening.
Previous to that Chris & I and some friends went to Telus Spark for their adults only night which is held every 2nd Thursday of the month. Telus Spark is the new science center that was built a few years ago. I'd been to the old one when I used to live downtown so long ago and quite enjoyed it. Everyday I'd drive by the new one on my way to work and kept telling myself that I should check it out. Bored and wanting to do something different I finally got around to arranging it. The reason for it being adults only that night was because they served booze in the concourse. Booze and science - the perfect match!
In addition to just wandering around and checking out the various exhibits and displays they also had a planetarium which was pretty cool. It was kind of like an Imax screen that was curved all around you. The show we watched was just ok, but I could see it being pretty amazing with the right one. There's also a large area for special features which I gather they change every so often. Currently it's devoted to all things Star Trek so we checked it out as well. It was ok. There were lots of people with big grins on their faces walking around so they obviously loved it. In addition to various props and displays from the shows and movies they had various interactive kiosks. The idea being you'd try all of them and at the end you'd get a summary of what role in Star Fleet you'd best be suited for. Maybe I'm not a big enough geek to have gotten the most out of it? I was also feeling crappy that night so that probably didn't help.
But overall I'm glad we went and a big thank you to Jamie, Kim, Dori and Matthew who came out!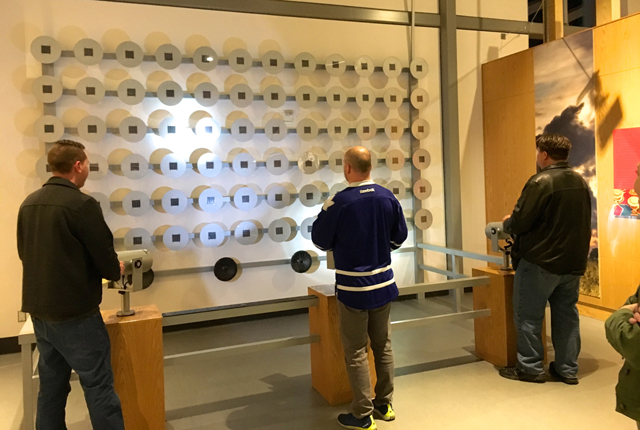 Making Music With Light
The weekend before that Chris & I did a quick trip up to Edmonton to see my Mom before we head out on our vacation. Unfortunately we only got to spend one day with her as we had to stick around on the Friday to receive one of our pieces of art we bought when we were in Seattle. But it was a good visit and we'll have to head up again when we get back from our trip.
As for our cruise, it'll be here before we know it. All our excursions are now finally planned out and the various transports, guides, tickets etc. all bought and booked. I just looked at our world map and realized I'll get to put an extra five pins in it. I can't wait. Bring on the squishy drinks!
Mar 14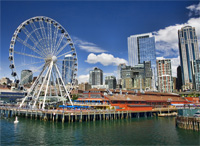 A couple weeks ago we were in Seattle.
Because of all the artwork we've bought in the past while on our cruises we got comped by the auction house a stay at a nice hotel with free meals and drinks. Of course they also held several art auctions, but unlike on the ships, you also got to meet the artists, interact with them, and hear their stories. We've had similar offers from them before, but this time we decided to go. In the basement we had a wall niche built to display something fancy and we've looked for awhile now for a piece that would fit - but neither of us has found anything that we both liked. So we were hoping we'd find something at this event to fill that space. I've also never been to Seattle so we thought it'd be a nice get away and as everything was paid for it'd also be relatively cheap...
At least that's what we thought.
Well of course while there you're feeling pretty important, downing the free booze, and they're making the artists out to be the greatest thing since Van Gogh. So naturally we got caught up in it all and during the first auction ended up buying a nice painting from this quirky little Frenchman named Duaiv. When they unveiled his work I scanned the room (which was extremely large, holding roughly 300 guests) and there was only one that I liked which was a gigantic abstract which naturally was also the most expensive. But then a smaller one caught my eye and Chris liked it as it reminded us of Europe so we tagged it and when it came up for auction we held up our bid card and won it.
The big difference between this event and ship auctions is that on the ship people are usually just there for the free champagne and to kill time before they have to go to Bingo. In fact, even though it's their bread and butter, the host made several cracks about the cruise ships which were pretty funny. Some bidding does happen but it's usually pretty low amounts and people do pre-bids - where once the piece you tagged is presented they tend to bang out the gavel as soon as your bid card goes up so you're almost guaranteed to get it with no other competing bids. But during this event it was just like in the movies where you had back and forth bids of increasing amounts. It was pretty exciting to watch.
Our hotel room was really nice as was the hotel itself - The Four Seasons - which was right downtown on the waterfront. We did manage to do some wandering around outside but only within a several block radius. We went to Pike Place Market which was pretty neat. The amount of seafood everywhere was crazy. We also got to see the very first Starbucks (ooh, aaah) which was nearby. And last but not least we stopped at the gum wall which was both amusing and gross and we made our contribution. But then it was back to the bidding...
The second auction was all about this artist named Godard whose work I've seen before. He's a pop culture artist, and has been compared to a modern day Warhol. He came out during dinner the night before and told his story which was pretty interesting. He's the typical rags to riches story and now hangs out with Hollywood celebrities and rock stars. But the cool thing is he donates a chunk of his sales to various charities, specifically ones related to cancer research as he lost his own daughter to cancer. I'll admit he had me choked up listening to him tell the crowd about her struggle and according to Chris I wasn't the only one in the audience shedding a few tears. All that said, I had no intention of buying any of his work because we were done buying paintings.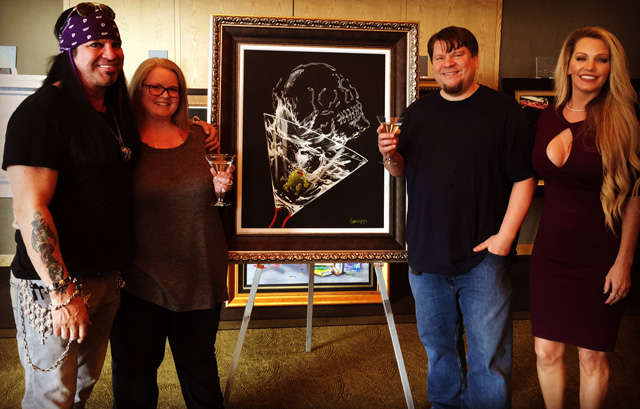 Posing With Michael Godard and Our Newest Piece
But again, once the booze starts flowing, you're feeling pretty self important, you scan the room and see that one piece that calls to out to you...'buy me!'. What else are you supposed to do? You have to buy it right? So once again, we put up the bid card and became the proud owners of yet more art. To be fair, we justified it as the purchase price would put us over the limit whereby we'd be qualified to go on a free cruise. In our wine soaked state it made total sense. Hell, we were being thrifty! Except we didn't do the math properly and were short of the limit amount by about $400. Not only that, but when we got the Visa bill I almost crapped myself because I sorta forgot about the 'tax me another 30% just because I'm Canadian' tax.
We contacted them after we got home and whined about being short and reminded them how much we've bought from them in the past and so on and they said there was a 'very good chance' we'd be offered a cruise. So we'll see what happens.
All I know is once I get the thing up on the wall I'm going to stop and admire the shit out of it each and every single day and let it be a valuable life lesson in self restraint - or the lack thereof.
Feb 11
This is painful...
Currently on hold for the past 30 minutes with the company that hosts this website. I'm trying to renew my domain name but for whatever reason the online form is messed up and it won't let me do it. So now I'm enjoying the elevator music emanating from my phone. Isn't technology great?
When I got the renewal notice I was somewhat surprised how long this website has been going. Most personal websites come and go rather quickly as people don't realize how much effort is involved - even today when there are so many tools and website builders removing the need to even know HTML, CSS, Javascript etc. It still takes dedication to set aside time to just add new content, especially when also working and leading a busy life. So I'm somewhat proud that I've managed to do this for what will be 15 years as of next year. I've been 'blogging' before 'blogging' was even a word.
All those years ago I built this site from scratch using the now ancient Frontpage editor. I figured it's probably time to upgrade to something newer. Of course Wordpress is the current darling of bloggers everywhere, but I'm still going to kick it somewhat old school and use MS Expressions instead. Yes, it's no longer supported, but it's still substantially newer than Frontpage. I also decided to update my ancient copy of Photoshop Elements and bought a newer version off eBay. Again, it's not the latest, but it's still five generations ahead of what I currently have. As such I've been spending my spare time tinkering with creating a new website which I plan on unveiling on the 15th anniversary next year.
This is the time of year where we make our vacation plans, figure out our money situation, taxes, RRSPs and so on. So we've been busy planning our next trip which is a Transatlantic cruise, now only a few months away. We're going with some friends of ours and this will be our first time travelling with them. Hopefully we're still friends afterwards as we'll be stuck together for six straight days at sea. I'm kidding - they're a lot of fun as are we so I know it'll be a great time. As we didn't go on any cruises last year it'll be a welcome return to the ocean waves.
I've now been on hold for an hour...
That vacation can't come soon enough!
Jan 7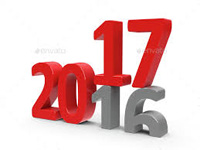 Well shit.
Not the best start to the year. The 2nd day into our Vegas trip I started to not feel well. I'd get short of breath, felt like someone was sitting on my chest, break out in sweats etc. Part of me thought it was from all the bloody smoke in the Casino which we had been spending probably the most time in of any of our Vegas trips. So I figured it was just allergies and soldiered on.
Around dinner time on New Years Eve I started to feel a bit better and was able to enjoy the festivities, but by the time I got home I felt like death. It was bad enough that I agreed to go to the doctor - of course this was on the holiday Monday so it took half a day after calling Healthlink for them to get me a location to go to. Once there they were useless but agreed with me that I should get a chest X-ray. Of course, that had to wait until the next day because all the diagnostic clinics were closed. What was going on was that whenever I would lie down I would find it hard to breath, to the point where I had to focus on my breathing to get enough air in and out. And all I could hear was my lungs gurgling every time I exhaled. Needless to say that prevented me from sleeping. So over the course of three days I got maybe six hours sleep total.
Eventually I got the call back from the doctor after they reviewed my X-rays and was told I had pneumonia. Great. So I went in and they wrote me a prescription for some antibiotics (Levofloxacin) which I grabbed from the pharmacy. Once home I popped a pill and figured I was on my way to recovery. A couple hours later I got this wave of numbness and tingling that shot from my fingers all the way up my arms and into my neck. My arms felt weak as hell and I could barely lift them. But it was late at night and I went to bed to try and sleep. The next morning I was still messed up so I looked at the literature that came with the prescription.
WARNING

Quinolone antibiotics (including levoflacin) may cause serious and possibly permanent tendon damage, nerve problems in the arms and legs (peripheral neuropathy), and nervous system problems.
I then went online and found horror story after horror story, class action lawsuits etc. etc. of people whose lives have been ruined by this class of drug even after a couple doses. So now I'm freaking out and called the doctor back, went back (now my 4th trip to the doctor), and actually had to argue with her that a bad reaction to the drug had occurred. Her response was to flat out deny it but she humored me by writing a prescription for a regular antibiotic (Teva-Clarithromycin). Two days after that my arm (thankfully just the one at this point) was still weak and numb. I simply cannot believe a doctor would prescribe this drug when safer alternatives exist. This class of drugs should only be used when someone is in hospital and their lives in jeopardy. Giving it to me was the equivalent of hammering a nail with a nuke.
Please, please, please - if you are ever prescribed antibiotics in the future, make sure you find out what they are prescribing and why.
Anyway, as I type this everything seems to have gone back to normal, I'm now getting adequate sleep, and feeling not to bad. Although I still tire out pretty quick. Of course as I'm getting better Chris is getting sicker. She started getting 'something' a few days ago and it's gotten progressively worse. She's at the doctors right now and just informed me that she has Bronchitis.
Again, great frickin start to the year.
But on to other things...despite everything we still had a great time in Vegas. It was our first time staying at Aria and we really liked it. The location was great with access to the tram which would take you between Monte Carlo and the Bellagio and it was directly connected to The Cosmopolitan and not far from New York, New York. As mentioned earlier we spent alot of time playing the slots. I was looking forward to playing the Charlie & the Chocolate Factory game I loved so much the last time we were there but it was gone. They had three other variants of it, but they weren't the same. I did however finally find it next door at the Cosmo. In the end I would guess we maybe broke even? It was hard to tell as it was all a blur. Some times we'd win four or five hundred bucks on a game. Other times we'd blow through a hundred in under a minute.
We had New Years Eve dinner at a Tapas restaurant in Aria and it was really yummy. We both had this fancy ass mushroom soup with real truffles and it was heavenly. After that we went outside to party on the strip. We had heard that they shut down the strip to traffic, so we knew what to expect. But it was surreal to actually experience it. There was a place across the street where the music was pumping so we wandered over there. Essentially it was the opposite strip equivalent to Carnival Court where we've had so much fun in the past. So we grabbed a table, loaded up on squishy drinks, and hung out listening to the music and waiting for midnight.
The table next to us was well on their way when we arrived. I noticed that in addition to the squishy drinks they also had a 26'er of booze that they were downing. Buddy would leave the table every few minutes and stagger past us bumping into us almost each time. I thought to myself 'this isn't going to end well'. Sure enough not long before midnight we look over and chicky is puking her guts out. Gross, but whatever, moving on right? Nope. Because at that point she went unconscious and collapsed on the ground. Her underage lover and her girlfriend were trying to hold her up, but she was, let's say, rather a large woman and they didn't have the strength to do so. As they were trying her dress was up around her head, and her fat was spilling out (luckily she was wearing underwear). At this point it was a big enough of a commotion that security had come over (obviously security was super tight all along the strip) and they were trying to get her up. But then buddy had come back and was freaking out and got violent. At this point more guards came in and pushed our table out of the way to subdue him (Chris and I were just drinking our drinks and casually watching the whole shit show unfold). But buddy was amped and four guards were trying to control him - and then he went to reach for something and the entire place went apeshit with them slamming him to the ground and yelling for more help - at which point I was like, um, we should get out of here. We wandered out onto the strip as we didn't want to ring in the new year in the midst of all that drama.
The countdown clock started on all the hotel billboards and the entire crowd did the countdown and at midnight fireworks were going off from various hotels. It was pretty cool. I'd say outside of being in Times Square that was the next best place to be in all of North America.
Here's some pix of our Vegas shenanigans: